Disk of 2017 > Jazz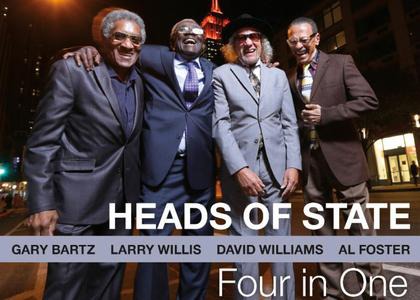 Heads of State: 'Four in one' - Jazzy Hour, October 12th
Monday, 18 December 2017 , ora 12.37

An album like no other, released on March 24th, 2017
How do you know you're listening to high quality jazz, with all its insights, or, as some might say, the real jazz? How can you be sure you're enjoying the jazz spirit, in our day and age? You do so, by choosing the most iconic artists, who, for years now, have explored the same area, developing a certain style and rhythm that drive us every single day.
The album "Four in one" contains one of the most exceptionally elegant displays of jazz. This album is the second one released by Head of State, a true all-star band, with Gary Bartz on the saxophone, Larry Willis playing piano, David Williams, bass and Al Foster, drums. They are part of the veterans who just don't seem to get enough of their art, even after years and years of playing in countless spectacular groups. Quite the contrary, they found the quickest way to that pure pleasure of playing jazz, by having each member record a session of classic tracks and music compositions, first hand.
In spite of the radical view some have, believing that they can completely redefine a musical genre, replace everything there is in jazz, under the outraged eyes of those pure souls who want to keep everything as is, this album is essential for the jazz stage. It contains all the core elements of this growing phenomenon that need to be preserved, a phenomenon that is constantly developing, but will never forsake its roots.
Berti Barbera
Translated by Andreea Mizdrea,
MTTLC, Anul I