Disk of 2017 > Jazz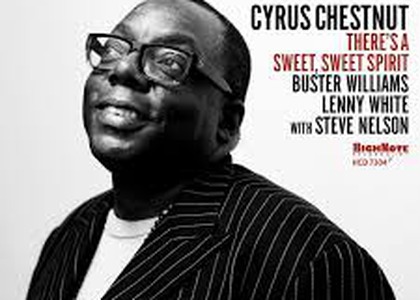 Cyrus Chestnut: "There's a Sweet, Sweet spirit" - Jazzy Hour, 9 November 2017
Tuesday, 19 December 2017 , ora 12.58

Even if we hardly hear of them, most of the musicians who continue their way and enjoy their success in more open environments have a sustained activity which is also done with passion and as efficient as possible in a market of total ballast. We need even more to know them and to offer them what they deserve, and thus, to enter in the civilized music world.
Cyrus Chestunut is that type of pianist who neglects the notes and uses the spaces in a clear, strong style, after his experience with Betty Carter's accompaniment group. The success and the quality of the album "Natural Essence", launched in 2016, determined him to continue in the same way, with Buster Williams on the double bass and Lenny White on the drums with whom he has a special bond, an easily noticeable bond if another Chestnut's formulas are heard.
In addition, "There's a sweet, sweet spirit" attracts by the presence of vibraphonist Steve Nelson who brought a refined contribution to the sonority's resplendence of the album. The veterans delight us the whole performance start to finish, without any pauses, with a mostly known repertoire, smart paraphrases and a noble generosity of improvisation which leads us straight to the greatest. But before any technical or esthetical mention, this record conveys the warmth of a sincere and pure friendship.
Berti Barbera
Translated by Costache Alexandra Iuliana,
MTTLC 1st year University of Bucharest