Disk of 2017 > Jazz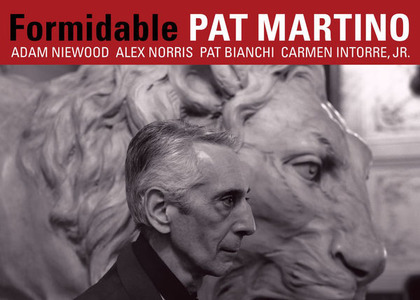 Pat Martino: 'Formidable' album – Jazzy hour, 8th of February 2018
Tuesday, 13 February 2018 , ora 10.16

Most of the times, the musical genius is manifested disarmingly and cyclically, giving the impression of an energy which can be made understandable and benefic only by the person who possesses it. The genius appears, amazes you and then withdraws to come back with fresh forces. The jazz maestro returns every time with the same materials, giving the impression of a new beginning.

In Pat Martino's case, this return is even more memorable when we get to know the medical circumstances in which it happened. The great guitarist did not need a break chosen deliberately to recharge his batteries, but for a long period of recovery after an operation caused by an aneurysm which simply took him every single ability of making music. 1897 stands for the return to a considerable form, but the entire career, which started in the sixties, can be described by the title of the album released in 2017, in a moment when we thought that the break was actually the end.

"Formidable" keeps us close to a maestro, a man capable to manifest his genius regardless of the absurd of the palpable life. Now and here, Pat Martino manifests himself supremely, putting his musicians in a feast that summarizes the work from the past, touched by a contemporary air. The album is exceptional thanks to the contribution of the group, but it is Martino that makes it amazing. He has transformed this session of recordings in something unique and timeless. His signature helps up maintain the intensity of what has always been formidable: the man capable of building something long-lasting, which can at least give the sensation of eternity.
Berti Barbera
Translated by Răduțoiu Elena-Alexandra,
MTTLC, 2nd year