Disk of 2017 > Jazz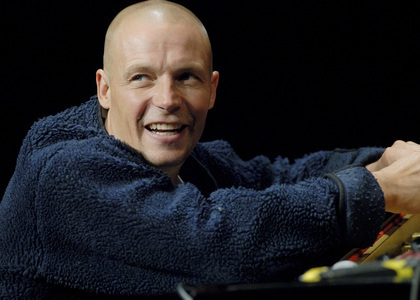 Esbjörn Svensson, musical prodigy – Jazzy Hour, January 12th
Friday, 13 January 2017 , ora 13.50

Esbjörn Svensson was considered a musical prodigy the late twentieth century and the trio he led was called "trio of the decade ', or rather' trio of the beginning of the new century" for the performance of playing a profound niche music taken to an unbelievable level of audience. The subtle mix of jazz and pop with moments of improvisation and subtlety came to be exposed in gyms and at festivals with thousands of participants, while most acts of this kind was exhibited at intimate clubs. His disappearance has created a void in the landscape, but also a wave of gratitude, manifested through numerous projects to evoke music and personality, immense contribution to the attractiveness of a music always underestimated. 2016 marks a kind of culmination of this series of tributes by the appearance of the album "E.S.T. Symphony", a wizard program, designed to scale symphonic compositions formed entirely from the group. Even this form, with orchestra and jazz soloists, clearly shows the influence of the music of Esbjörn Svensson on the beginning of the XXI century European music.
A music originally written for three people, is revealed by dozens of voices, the Philharmonic Orchestra of the Royal Stockholm, conducted by Hans Ek and soloists such as Marius Neset, Verneri Pohjola, Iiro Rantala or two former colleagues EST, Dan Berglund and Magnus Ostrom.This form of expression sublime and magnificent show us somehow, how this music would have continued, but a Esbjörn Svensson's artistic perfection that has always wanted to design such a scale symphonic album. A symphony full of nostalgia, excitement and musical superlatives.
As it is normal in an organized society, where education takes precedence music, great musicians are celebrated both during life and after their disappearance. The disappearance of Esbjörn Svensson in 2008 was deeply regretted and his music long praised, because there was no European pianist with greater froming influence, at least during the end of the twentieth century, when contemporary creation received a new breath and the jazz trio arrived, at least in their case, the size of a rock band. Of all the group publications dedicated to Svensson, perhaps the most impressive is the concert meeting of Viktoria Tolstoy, Iiro Rantala, Wakenius Ulf Lars Danielsson and Morten Lund. Some of the most brilliant Scandinavian musicians marks an Esbjörn Svensson tribute to his music under the title "Lost Hero - Tears for Esbjörn", a collection of interpretations, states of mind and moments related to the musical memory of the influent pianist. Every involved musician formed its own musical personality, but here, everyone communicates in the manner of the one they knew, loved and regretted. The emotional charge is immediately perceptible in the best possible way.
The tears of losing an artist and a friend are totally justified, but the lasting power of music that has been left behind cannot be affected in any way, especially when taken by such continuers.
Jazzy Hour, Thursday, January 12th 2017, 19.00 h
Berti Barbera
Translated by Alexandra Stefan MTTLC 2nd year promotia 2014