Disk of 2017 > Jazz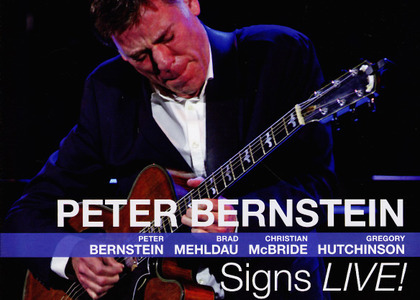 Peter Bernstein: 'Signs Live!' - Jazzy Hour, 2 noiembrie 2017
Monday, 13 November 2017 , ora 9.46

This album-event brings together four illustrious musicians who celebrate 20 years since the recording of "Signs of Life" album, the second album from the discography of the guitarist, Peter Bernstein. Everything is dominated by the superlative: the two and a half hour concert was recorded at Lincoln Centre, with the impressive formula from the debut days, with Bernstein alongside Brad Mehldau at piano, Christian McBride at bass and Gregory Hutchinson at drums.
The album gives the possibility of experiencing the good mood of a few lucky people who had the chance to be present at this concert which was a reference point for the modern American jazz music. Recorded in two parts, the repertoire contains heavy lasting musical pieces, which present amazing improvisations, developed with stability under the master's guidelines. In the beginning, Bernstein felt that those musicians who were rising stars could form the ideal quartet to lead a debut in force.
After twenty years, there were not few people who realised the influence that the four musicians had over the world of jazz. It is not the fame, but the elegance that stands out for this album that was touched by the mastermind of four of the best musicians of this period. An advanced music, a brilliant jazz swinging on an elegant and perfect accomplished sound.
Berti Barbera
Translated by Alina Deacu