Disk of 2017 > Jazz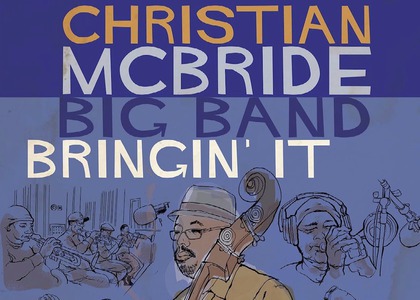 Christian McBride: "Bringin' IT"- Jazzy Hour, 21st of December 2017
Friday, 5 January 2018 , ora 11.27

When you spot an active musician, involved in so many complex projects, all time consuming and professionally demanding, the only question you can ask yourself is how does the artist organize his physical time. For example, I ask myself how does Christian McBride find the time to do all that he does, from teaching classes to scores for big band?

This explains the reason for which the composer, leader, teacher, the public figure, radio figure, the DJ and artistic director of the Newport Jazz Festival, Christian McBride, indisputably one of the best bass players in history, needed six years to finish up `` Bringin' It'', a great production that had developed slowly in the studio, with breaks but with a fabulous final result, as a continuation of his 2011 Grammy success, "The Good Feeling". The program is well thought up and entertaining , boosted by a bass and a brilliant mind, full of good taste , humor, intelligence and power, all very clear despite the size of the ensemble and the complexity of the orchestra. Styles and equalizers vary from one moment to the other, from one play to the other, but the remarkable consistency is maintained permanently. Right now, I don't think that there is a more obvious proof than "Bringin' It" that big band jazz can be attractive without compromises and fading elements.

Whether it brings up a new set of colors reminding of the mentors and precursors or it takes inspiration from the classics, McBride manifests his magnetic personality through creativity in all its shapes, while remaining predictable for an artist that has been turning everything into precious material.
Berti Barbera
Translated by Denisa Ion,
MTTLC, Anul I