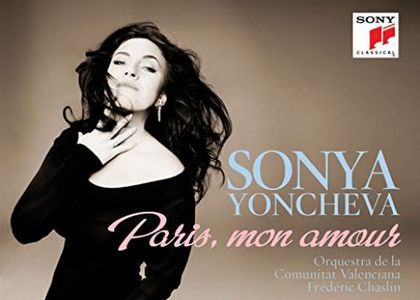 The Soprano Sonya Yoncheva - the Album 'Paris, Mon Amour': 'Music Box', 12th January, 2015
Monday, 12 January 2015 , ora 9.27

If you would like to vote for this cd please vote HERE

Played for the first time in Romania on 12th January, an album that will be internationally released on 13th January, 2015: the debut album of the Bulgarian soprano Sonya Yoncheva, entitled Paris, Mon Amour and recorded for the Sony label together with the Orquestra de la Comunitat Valenciana conducted by Frederic Chaslin.
text-align: justify; line-height: 150%;">I admit I did not know much about the soprano Sonya Yoncheva before listening to this album, included in the 'Vote for the best classical album of 2015' campaign.
A lyric soprano, with a special timbre, who reminded me of Anna Netrebko - this is Sonya Yoncheva, nowadays thirty three years old, who in 2010 won the first prize in the Operalia Competition, initiated by Placido Domingo, and caught the eye of the international press. In November 2014, Sonya Yoncheva appeared as Mimi in La Bohème - replacing Kristine Opolais, who had cancelled her La Bohème contract to sing Manon Lescaut in the Munich Opera House, after Anna Netrebko had officialy announced the termination of her contract with the Bavarian State Opera. It was a domino effect with a spectacular outcome for Yoncheva, considered by the New York press a real phenomenon after the La Bohème performance.
Therefore, the release of this CD with arias from French operas or whose actions take place in Paris is as welcome as it can be. Starting on 14th January 2015, Sonya Yoncheva is holding a new series of performances at the Metropolitan Opera in New York, with Giuseppe Verdi's La Traviata.
Critics from around the world have unanimously admired the great voice, the ability to express emotion, as well as the physical beauty of the soprano born in Plovdiv, who studied in Geneva. Hence, one more reason for us to enjoy the album Paris, Mon Amour, on which you can also find less known arias from the French repertoire, among them pieces by Jules Massenet, Charles Gounod, Andre Messager and Charles Lecocq.
Cristina Comandașu
Translated by Ana Cristina Dumitrache and Elena Daniela Radu
MTTLC, The University of Bucharest