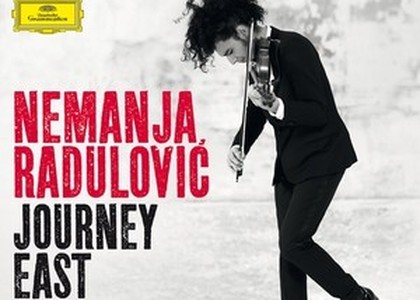 Nemanja Radulovic - the 'Journey East' Album on Music Box, 23rd February
Monday, 23 February 2015 , ora 9.21

If you would like to vote for this cd please vote HERE

I invite you to listen to an album which was released on 16th February, 2015. I'm talking about Journey East, signed by the French violinist with Serbian origins, Nemanja Radulovic and the ensemble which he founded, Les trilles du diable. A very special album, which I personally believe that we should all have for moments when we search for the right music to listen to while driving, working, or simply when we feel bored. A suite of short famous songs, some with an ethnic nuance which feels very close, performed with passion and energy; an album which I hope will receive as many votes as possible in the Vote for the best classical album of 2015 campaign.
Nemanja Radulovic is 29 years old; in 2001 he received the first prize at the George Enescu Competition. He was born in Nish, in the south of Serbia and in 1999 he moved to Paris where he also studied. France is his adoptive country, and the album Journey East was first released there, under the name of Carnets de Voyage - this happened in November 2014.
It is clear that the violin is not just a simple instrument in the hands of Radulovic, but also the way which he uses to communicate with the world. Radulovic is unconventional: he has long hair, a face which resembles that of a modern minstrel. His way of performing is also unconventional - because rarely you can perceive such a passion, and emotional intensity in the speech of other people. It is understandable why. He is so successful, both in the classical repertoire and in the one which derives from traditional music. We have here an album which he dedicates to his mother and to his Serbian legacy, and in a broad sense, to his Balkan origins, which he doesn't deny, but, on the contrary, he makes the best of it. A Balkan tradition which in the traditional Serbian music resembles the Romanian tradition, as can be seen in the song Pasona kolo.
Nemanja Radulovic, with his unconventional appearance is, however, a first class violinist which, at the age of only 29, already performed with one of the most important European orchestras in recitals in famous music halls such as Carnegie Hall in New York. But he knows that his main advantage is this artistic legacy which he has in his veins, this burning passion that Eastern European violinists have and which makes them so wanted these days. I remember that I once asked the director of the Düsseldorf Symphony Orchestra why there are so many Romanian and, in general Eastern European, violinists in the orchestras of the Western Europe. And he was astonished by this question: 'Don't you realise the advantage that you have? Who else can play so lively than the violinists from Eastern Europe?'
Yes, and this is how Nemanja Radulovic is. His album Journey East includes well known songs from the classical repertoire - with a traditional nuance, such as The Hungarian Dance No. 5 by Johannes Brahms, Vittorio Monti's Csárdás, together with traditional Serbian songs. You can see the complete list below.
Johannes Brahms - Hungarian Dance No. 1
Antonin Dvorak - Songs my Mother Taught Me
Piotr Ilici Tchaikovsky - Russian Dance from the Swan Lake
Aram Khachaturian - Sabre Dance
Sonja Kalajic - Vatra suze
Traditional - Pasona kolo
Aram Khachaturian - Masquerade Waltz
Dmitri Shostakovici - Romance (from The Gadfly)
Sergei Prokofiev - the March from The Love for Three Oranges
John Williams - Schindler's List Theme
Traditional - Niska Banja
Zoran Simjanovic - the theme from Petrijin venac
Emir Kusturica, Dejan Sparavalo - Ovo je muski svet from Life is a miracle
Vittorio Monti - Csárdás
Aleksander Sarievski - Zajdi, zajdi, jasno sonce
Cristina Comandașu
Translated by Ana-Maria Văduva and Elena Daniela Radu
MTTLC, the University of Bucharest