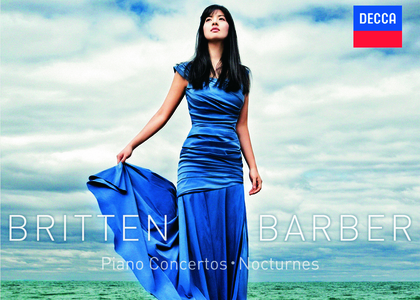 Pianist Elizabeth Joy Roe Performs Britten and Barber - Music Box, 9th March 2015
Monday, 9 March 2015 , ora 10.21

If you would like to vote for this cd please vote HERE
I invite you to listen together with us to an album launched by the Decca House on 2nd March, 2015. The album is signed by the American pianist Elizabeth Joy Roe and comprises concerts by Benjamin Britten and Samuel Barber, recorded in the company of the London Symphony Orchestra, conducted by Emil Tabakov. The album has also been included in the Radio Romania Music "Vote the best classical album of 2015" campaign.
I believe that for many of us, the name of Elizabeth Joy Roe was completely unknown. Perhaps it was better known by those who follow the contemporary interpretive phenomenon overseas: Elizabeth Joy Roe is a cherished pianist born in Chicago, known best for promoting the modern and contemporary repertoire. And the album launched on the 2nd March, 2015, refers to the same 20th century music, especially through two works signed by two of the great composers who have brought this impoverished era to life: the British Benjamin Britten and the American Samuel Barber.
Benjamin Britten has written his only piano concert in 1938, but he has reworked the third part in 1945. The music is fully virtuous and inspirational, having been rediscovered in the past few years. I am certain that the warmth of the pianist Elizabeth Joy Roe's performance will contribute to bringing up the notoriety of this concert, which is structured in four parts: the Toccata, the Waltz, the Impromptu and the March.

A new YouTube pianist
In some particular way, the career of Elizabeth Joy Roe is similar to that of the American pianist of Ukrainian descent Valentina Lisitsa, because Elizabeth Joy Roe also owes much to the online medium, as far as her recognition and professional notoriety go. The videos posted by the Anderson & Roe duo have gained over 1 million views on YouTube. Aside from the online medium, Elizabeth Joy Roe's decision to interpret mostly modern and contemporary music has had a great impact and has opened the path for her collaboration with masters who are now legends, such as Pierre Boulez. The American press defines Elizabeth Joy Roe as a bright and intelligent performer, truly inspired, which is of course true and which can be seen clearly in the pianist's performances.
On the album launched on 2nd March, 2015, Elizabeth Joy Roe also performs Samuel Barber's very little known piano and orchestra concert, the composer seen as one of the topmost masters of American composition of the 20th century, a concert which premiered in 1962.
Cristina Comandașu
Translated by Andrei-Radu Bîrsan and Elena Daniela Radu
MTTLC, the University of Bucharest