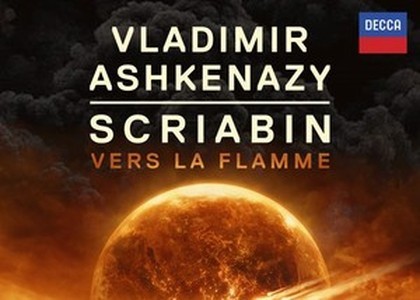 'Vers la flamme' Album with the Piano Player Vladimir Ashkenazy - Music Box on 27th April, 2015
Monday, 27 April 2015 , ora 9.34

If you would like to vote for this cd please vote HERE
On 27th April there will be one hundred years since the composer Alexander Scriabin passed away; a commemoration marked out by the Decca Record Label by launching the complete pieces composed by the Russian composer, engraved on 18 CDs and by releasing a new CD signed by the piano player Vladimir Ashkenazy, one of the great players of the Scriabin's music in our days.
Vers la flame is Vladimir Ashkenazy's album which was released on 6th April, 2015, and is included in the Vote for the Best Classical Album of 2015 Radio Romania Music campaign that rolls on the romaniamuzical.ro website, which I invite you to access in order to listen to the albums that run into the competition and give marks to these CDs because only your vote will designate the Best Classical Album of 2015.
Vers la flame is the title of one of the songs composed by Scriabin which was included in this album. Thirty years ago Ashkenazy recorded the sonata for piano composed by Scriabin; at the age of seventy-seven, in 2014, he recorded an almost eighty-minute programme of the piano miniature composed by Alexander Scriabin. It is amazing what a lovely, interiorized and reflexive piano player Ashkenazy is when performing these miniatures - perfectly adapted to Scriabin's songs highlighting his own world.

Alexander Scriabin was celebrated in 2015
I decided to divide these piano miniatures in three parts just as the musicology and the chronology of Scriabin's musical creation were. The first creative phase took place between 1880-1903 and it was represented by the Op. 2, Op. 3 and Op. 22 in a remarkably Romanesque musical discourse.
Scriabin is one of the most mysterious musicians who lived at the crossroad between the XIXth and XXth century and built his own music interpretation distinct from any other musical creations of his contemporary composers. He was influenced by theosophy and synasthesia, especially in his last compositions. Despite the fact that his hands were small he was also a highly appreciated piano player; as a matter of fact his piano compositions can be considered the laboratory of his symphonic creation. Scriabin lived abroad, travelling to Europe and America between 1903-1909; as a composer he passed from the Romantic pieces he created in his youth to his profoundly personal musical language that characterised his third and the last creative phases. In his second creative period Scriabin also lived in Paris for a while - we can listen to several pieces on this CD: eight studies Op. 42, three pieces Op. 45, Quasi Valse Op. 47 and three pieces Op. 52.

Vladimir Ashkenazy - a great performer of Scriabin's music
In spite of his age, Ashkenazy was an active artist: as a piano player he kept recording albums and at the same time he still conducted great orchestras of the world; besides, we had the privilege to listen to him performing live on the London Philharmonic Orchestra stage in a concert broadcast from London on 19th April; he had been the London Philharmonic Orchestra's laureate conductor since 2000. You can still listen to this concert on our website (http://www.romania-muzical.ro).
At seventy-seven, Ashkenazy was the same magnificent piano player he had been for thirty-forty years; now he stresses even more on the expressiveness, on composing new experiences, things required by the Alexander Scriabin's music, as well. In his latest stage of creation, the artist gives forth to new harmonic systems, insisting on the bonding between philosophy, music and colour in a personal manner. In this period most of the songs composed by Scriabin are entitled poems and he culminated with the Poem of Ecstasy and the Poem of Fire. One of the Scriabin's musical projects was to record a song which was to be performed in the Himalaya Mountains representing a synthesis of the arts by which he set himself to spring the world's revival, as he had stated.
His plans were not accomplished as he died on 27th April, 1915, aged 45 from blood poisoning.
You can listen tothe Vers la flame album broadcast for the first time in Romania on Monday, 27th April, at 19:00; the repeats are scheduled on Sunday, 3rd May at 13:05.
Cristina Comandașu
Translated by Anca-Elena Vezeanu and Elena Daniela Radu
MTTLC, the University of Bucharest