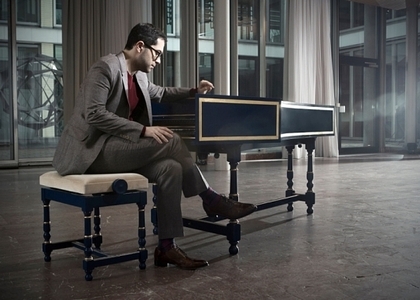 The Clavecinist Mahan Esfahani - 'Time Present and Time Past', on CD Review, 4th June, 2015
Thursday, 4 June 2015 , ora 11.18

If you would like to vote for this cd please vote HERE

This clavecinist of Iranian origin, who nonetheless grew up in the Western culture, generated enthusiasm in the musical world with his debut album under the Deutsche Grammophon record label. His proposal is out of the scripts. Along with works signed by Alessandro Scarlatti, Francesco Geminiani, Johann Sebastian Bach and his son Carl Philipp Emanuel, the musician invites us to discover the harpischord in his modern outlook - in a Concert for Harpischord and Orchestra by Henryk Górecki and in score by by Steve Reich, initially composed for two pianos. The artist as a matter of fact states that along with Baroque music, he loves the minimalists.

Who is Mahan Esfahani?
He was born in Tehran in 1984, and began his studies at the Stanford University in California with history and musicology, but, unseemingly, the harpsichord has overtaken his entire existence. He prepared himself with the clavecinist Peter Watchorn in Boston and later with Zuzana Rù¾ièková in Prague, which helped him attain some enviable results . In 2009 he made his debut in London, thus being made part of the "BBC New Generation Artist" and held the first harpsichord recital in the whole history of the BBC Proms.
Gradually, he became known in the entire Europe and entered the recording studios.
For his Carl Philipp Emanuel Bach - Württemburg Sonatas album issued at Hyperion, he received the Gramophone Award and a Diapason d'Or, while the Complete Works for Harpischord by Jean-Philippe Rameau was included in the top of best recordings in 2014 by the New York critics.

A new album
"In his latest album issued on 11th May, 2015, by the Deutsche Grammophon , Mahan Esfahani continues his well-known by now initiative of integrating the harpischord in contemporary music. He states that "this album offers me the chance of bringing old and new music, together. We can see this way the continuation of those great ideas that once shaped music. Baroque and Minimalism are two epochs which interest me a lot and which I take great pleasure in. There are even similarities between them. I noticed these patterns, these models in Bach's music - timeless, extatic, beautiful. So I told myself, minimalism has pretty much the same purpose - to attract the attention over certain components in music, to show the creative process and the blocks music is made of."
An extremely interesting point of view, which certainly spurs our interest. Listening to this music, no matter what your profile is, you cannot but observe the pasion Mahan Esfahani pours into the construction of his world of sounds, passion he then passes onto further. He actually imprints a new fresh breath to Bach's music (you would have probably thought of a cadence from a Concert for Harpischord by Brahms or of Steve Rech's music played on the harpischord?); and his enthusiam can actually be felt beyond the harsh sound of the instrument he masters as a professional.
The Times even remarked: "If you buy only one record of harpsichord music in your life...buy this sensational album.!"
You can listen to excerpts from this album included in "Vote the Best Classical Album of 2014" campaign on Radio Romania Music, on CD Review, part of the Arpeggio programme, on Thursday, 4th June, at 11:45.
Marina Nedelcu
Translated by Anca Romete and Elena Daniela Radu
MTTLC, the University of Bucharest