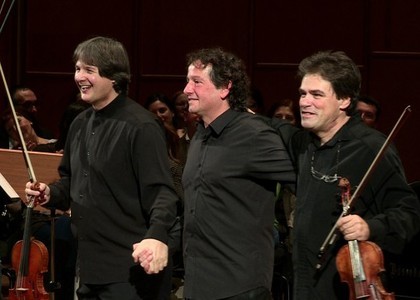 The 'Duel of the Violins' album - Tango
Friday, 25 September 2015 , ora 10.19

If you would like to vote for this cd please vote HERE

The 'Duel of the Violins' International Tour has been stirring waves of enthusiasm for almost four years now. The full halls, as well as the latest album released by the 'Casa Radio' Publishing House under the same label were both proof of this album's success.
… an album eagerly awaited by the listeners, who were as passionate about it as its title and content are; a duel of historical violins, a confrontation between two of the most important Romanian violonists of our times, Gabriel Croitoru and Liviu Prunaru, accompanied, as usual, by their great colleague - the pianist Horia Mihail. This album is all about the Argentine Tango, both the traditional approach, (with works that belong to many musicians, such as Gerardo Matos Rodriguez, Carlos Gardel, Angel Villoldo and Augusto Berto), and the refined vision of Astor Piazzola, who combined this dance with symphonic virtues in his work, The Four Seasons of Buenos Aires, as well as in many others.
… percussive accents, fiery hearts, sounds that formed a passionate type of music which keeps on exciting entire generations and has crossed the barriers between continents. What one can notice when listening to Tango is the excellence of the interpretative approach and especially the pleasure wherewith the three artists are playing a music that lacks any intemperance or platitudes, giving an impression of beauty, poetry and passion.
Looking into the presentation brochure, you are welcomed by the protagonists' smile. It announces an amicable duel, not only between a Guarneri and a Stradivarius, but also between two personalities that are beautifully outlined while performing on stage - the soloist of the Romanian Radio National Orchestra against the concertmaster of the Royal Concertgebouw in Amsterdam. What's also beautiful is that this is not about seeking supremacy, as the duel turns into a harmonious collaboration, as if it were a dance in which the partners coordinated their every step and gesture in the contagious pulsation of the music.
… an album released in 2015 in the summertime, but suitable for all seasons, which is also included in the Vote for the best classical music album of 2015 campaign on Radio Romania Music.
Marina Nedelcu
Translated by Iorga Elena Alexandra and Ioana Săbău
MTTLC, the University of Bucharest