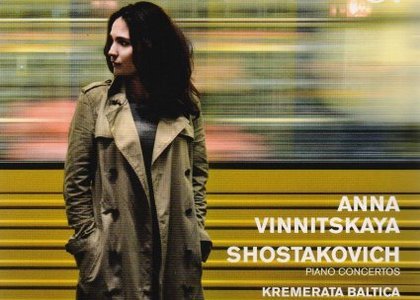 A New Shostakovich Album with Anna Vinnitskaya, Album Review, 7th October
Monday, 19 October 2015 , ora 10.14

If you would like to vote for this cd please vote HERE

In 2015, a new album dedicated to those who love Dmitri Shostakovich`s music is released by pianist Anna Vinnitskaya, who was already performing Concerto No.2 in Novorossiysk, on the shore of the Black Sea, when she was only eleven years old… a musical childhood marked by many memories and echoes that came straight from the world of the Russian composer, whom the young pianist considered to be an optimistic figure... 'Only after a long period of time I managed to understand what lay behind the 'facade' of Shostakovich`s music', stated Anna Vinnitskaya, who is presently teaching at the Hamburg Conservatory. This is her fourth album among so many others. It was released under the Alpha Classics label. On this record, she conducts both the Kremerata Baltica high-calibre ensemble and a group of wind instrumentists of the Staatskapelle Dresden in Concerto No.2, Op.102.
Therefore, the repertoire is a well-known one - the two Concertos for Piano and Orchestra by Shostakovich, followed by other two lesser known works - Concertino Op.94 composed in 1953 for his son, Maxim, and Tarantella for Two Pianos, a miniature that he composed as a soundtrack for The Gadfly film. Anna Vinnitskaya invited Ivan Rudin, her colleague and the current soloist of the Moscow State Symphony Orchestra to perform the latter two works, which make up the surprise on this album. These compositions are some incisive, untrammelled and sarcastic works that occasion lively dialogues between the protagonists.
Another brilliant performer is trumpeter Tobias Willner, the guest soloist of the uncommon Concerto No.1 Op.35, a work that he composed when he was young with the intention of breaking the existing patterns. The proof lies in the four parts of the composition that were performed somewhat temperately by Anna Vinnitskaya and Kremerata Baltica (except for the hasty ending) with a great deal of attention upon details. We believe that they had studied the score very carefully, focusing on the lyrical parts and on the purification of the 'bitter' spirit, a very common theme in Shostakovich`s works. As for the second Concerto with its slow and unboundlessly tender part, we cannot help but remember the performance of Christina Ortiz or Elisabeth Leonskaja. But a new generation confidently emerges with young musicians, such as Daniil Trifonov, Denis Matsuev or Yuja Wang. Therefore, we cannot ignore the keen competition in this territory. On the other hand, Anna Vinnitskaya, the winner of the Queen Elizabeth Competition in Brussels in 2007, releases new album to pay homage to the composer that had such a strong impact on her since she was a child.
Marina Nedelcu
Translated by Ilinca Elena Dinulescu and Ioana Săbău
MTTLC, the University of Bucharest