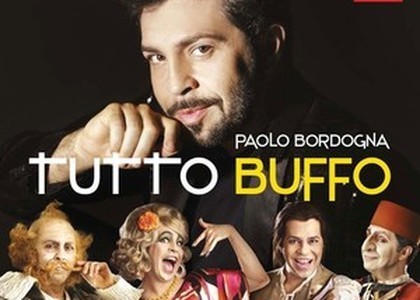 Paolo Bordogna: ' Tutto buffo ' - Nonconformist Portrait, 29th of October 2015
Thursday, 29 October 2015 , ora 9.30

It is a name constantly present on the posters of the great Italian opera theatres, and in the last few years it also became popular for the people from Sydney, Washington, Madrid, Hamburg or Vienna. And this is, especially because of the quality, flexibility and the compass of his voice, and also due to his extraordinary theatrical talent that allows him to realise a great number of characters with personality. His name is Paolo Bordogna and you will listen to him for the first time at the Radio Romania Music, in previews from his first album released at Decca Records, where he proposes a characteristic repertory for him and that is rarely present on the solo music albums.
'Tutto buffo ' is the title of this CD that reunites some of the most beautiful arias of the Italian opera dedicated to the bass-baritone voice. https://www.youtube.com/watch?v=rV4N3A3fv9w
Don Pasquale and Gianni Schicchi are two of the comical characters of the Italian repertory of opera, for whose portrayal the performer must use a versatile voice, capable to use different tonality colours in order to create the comical effect, and also exceptional theatrical qualities that allow them to transmit the message and the character`s personality beyond the visual image. These are qualities that Paolo Bordogna possess, because I consider that this album is one of the most interesting that were released this year, by bringing in the limelight a name that I am sure we will continue to hear about.
About Paolo Bordogna - a name that captures the audience`s attention with this album - you must know that he is 43 years old and he is an original album of the Italian school, by studying with Katia Ricciarelli and Alberto Zedda. In 2000 he won the Caruso contest, six years later he was awarded with the Ettore Bastianini prize and he is considered one of the most mportant creators of the buf bass role from his generation.
He is a common guest of the Rossini Festival, Pesaro, but also of the stages of La Scala of Milan, Maggio Musicale Fiorentino, Naples, Rome, Parma or Bologna, but also in Madrid, Barcelona, Washington, Paris, Sydney or Seoul. In the last season he debuted at the State Opera of Vienna by interpreting Leporello from the Mozart`s opera Don Giovanni.
https://www.youtube.com/watch?v=GZ2MA2dG0Fs
Liliana Staicu
Translated by Oana Diaconu
MTTLC, the University of Bucharest