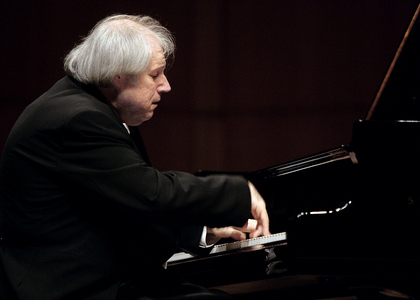 The pianist Grigory Sokolov - the Live from Salzburg and Warsaw album: Music box, 15th and 22nd of February
Monday, 15 February 2016 , ora 9.16

If you would like to vote for this cd please vote HERE
On 15th of January 2016 the Deutsche Grammonphon label released a double CD that included records of the well-known Russian pianist Grigory Sokolov. This was after exactly a year ago in January 2014, when the same label record was releasing the first album of records signed by Grigory Sokolov, an album that had a great success being one of the best-seller titles of Deutsche Grammophon, appreciated by the critics that offered him a Echo reward at the best pianist category, interpret of the 19rh century music.
Well, now we have the occasion to listen to the second album signed by Grigory Sokolov for Deutsche Grammophon - these are parts of two recitals, both of them performed in 2013: the first one at the Festival in Salzburg, the second one on the stage of Warsaw Philharmonic. The album is part of the Vote the classical music CD of 2016, a Radio Romania Musical's campaign, where I invite you to give grades to the CDs entered in competition.

Just Schubert in Warsaw
The first CD of the album, proposed to audition on 15th of February 2016, has exclusively works of Franz Schubert interpreted at the recital in Warsaw. It's a good thing to remember that Grigory Sokolov is the pianist that had never record in studio and he accepts only the records of his live recitals. Neither did he play with an orchestra nor on at the pianos older than five years. He doesn't give interviews and he is simply revered by his devoted audience that follows him through the world at every recital.
Grigory Sokolov is part of an endangered race of pianists that put above all the perfection of the detail that takes your breath away. It was talked a lot about him being a visionary, a creator of his own world above all the common worldly aspects.
If he is not one of the most important pianists of the moment as is considered by his fans, Grigory Sokolov is one of the best pianists by now, as he demonstrated to us with the four unexpected interpretations of the op. 90 D 899 by Franz Schubert.

International enthusiasm
Well, this is an album enthusiastically received by the international critics: "The music of Schubert interpreted by Sokolov is appropriate to the ideal!", "What a higher school of interpretation!" exclaimed the Germans commentators.
For real, the music of Schubert interpreted by Sokolov is a truly adventure of sound discoveries: all because the music of Schubert appears to us in a personal deep interpretation with a special psychological strain and details that we have ever heard in the vision of no other pianist.
A new proof: the interpretation of the 3 works D946 by Franz Schubert.
The first CD of the new album of Grigory Sokolov is available to be listened on Monday, 15th February at 7 p.m. and in relay on Sunday, 21st of February, at 1:05 p.m.
Cristina Comandașu
Translated by Negoiță Roxana-Beatrice
MTTLC, the University of Bucharest