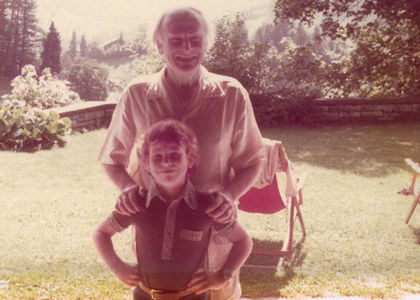 The violinist Daniel Hope - 'My tribute to Yehudi Menuhin' album
Thursday, 3 March 2016 , ora 10.02

If you would like to vote for this cd please vote HERE
The event-album was released on 5th of February by the British violinist Daniel Hope at the Deutsche Grammophon Record House. "My tribute to Yehudi Menuhin" album has a certain purpose: on 22nd of April, there will have been a century since Yehudi Menuhin, one of the most important musicians of 20th century, was born. Therefore it was necessary to be released such a CD, especially from one of his disciples. Not only that Daniel Hope studied with Yehudi Menuhin, but also he had been around the violinist since he was 2 years old, when his mother, a refugee from South Africa, became Yehuni Menuhin's assistant, and then his manager. Daniel Hope was Menuhin's pupil, sang together with Menuhin, and the last Menuhin's concert was together with Daniel Hope.

This entire CD can be listened at Radio Romania Musical on Monday, 29th of February, at 7 p.m. and as a second-showing on 6th of March, at 1.05 p.m. This album is included in the Vote the classical music CD of 2016 campaign of Radio Romania Musical.
This CD was created to capture, as much as is possible, what the personality of Menuhin means: through the works from the CD we can find "Hora Unirii" by George Enescu and "Rumänisch" by Jo Knumann. Obviously, I was extremely curious to know why these works had been chosen to illustrate the Menuhin's relationship with his beloved teacher, George Enescu. On 19th of February I spoke with Daniel Hope.
"When I strated to work for this CD, I was sure of two things: I was to include one of Bartok's works, because Bartok was the first composer's work that I played together with Menuhin and the second thing: there must be a work of George Enescu on this CD because Enescu was not only Menuhin's teacher but also he was the one who had the greatest musical influence over him in his entire life. Enescu has the responsibility of polishing his young mind, transforming a wonder-child in a truly artist before Menuhin was 12. Therefore, I think all of us owe George Enescu for the fact he discovered this amazing talented artist.
It was clear to me that Enescu's work had to be somehow part of this album. The challenge for me was to choose between those works of Enescu that could fit with the Menuhin's life-style. I could choose the Piano and Violin Sonata by George Enescu, which is one of my favorites, but it is too long and it would destroy the balance of the other works on the CD. So, I have to search for other works dedicated to the violin. I founded "Hora Unirii" that I have fallen in love with: I listened to and I have the idea of knowing it long before, but I couldn't be sure that was wrote by Enescu. When I heard it for the first time, I knew that this is the work I needed because it represents the bright of the interpretation style of Enescu, but also the pride of the Romanian style, that Enescu shared with Yehudi Menuhin. Therefore, "Hora Unirii" fit from all points of view on this CD and gave me the chance to honor Enescu.
In what regards Knumann, we used to listen to Gypsy folk music bands and Yehudi loved the way that the violinists sang. So, I was searching for a work that went further than Enescu. He was a bridge between the traditional music and the classical one. I found at Knumann just the pleasure for such a beautiful music.
That's the reason I chose these two works.

"Hora Unirii" by George Enescu is not so well-known. How did you find its music sheet?
I have someone who works for me. He is like a private detective in the libraries and archives of the world and finds me works that no one ever heard of them. It was the case of this Enescu's work but also for Baroque repertoire: he found works of Vivaldi that have never been played by now. I told him what I needed and he came to me with 4 or 5 works of Enescu; I knew in the very moment that "Hora Unirii" was what I was searching for.
I say that generally speaking a lot of Enescu's music is still unknown. I sing these days a wonderful work, a work that I played in Toronto, the Impromptu for violin and piano, a beautiful work that Enescu wrote in his early years. It is something between Wagner and Faure, but it has a personal language. Even this music sheet was hard to find.
I think it's a pity that the world doesn't pay enough attention to Enescu - the composer. It's well-known that he was a great violinist but also his music must be known - I think that the Octet is the most known work in this moment - his music is truly fabulous.

I think Enescu's Festival is a manner of imposing the composer at an international level…
It is true. As a member of the Beaux Arts Trio I sang some short works at the Enescu's Festival in Bucharest. But I think that the people outside the Romanian space must know much more about the unique talent of George Enescu.

Bartok and George Enescu were burn in the same year, 1881, on the nowadays territory of Romania, both of them genius composers, but with totally different international audience's perception today. Why do you think such a thing happened?
I think that Enescu was a great, great violinist. Bartok was a great pianist but not at the same size as George Enescu. So, he became known, first of all, as an amazing violinist, as a professor with an extraordinary influence at the Conservatory in Paris. In a society used to tag, I think that was his tag as a violinist that also used to compose. Bartok, on the other side, is a composer that also plays the piano. The fact that Bartok emigrated in America meant that he met key-people as Kușevițki or Menuhin that helped him to promote his music in America which had an important effect. Enescu remained centered on the European space. He has famous students as Menuhin, but also other pupils that became violinists like Ivry Gitlis. I think that the history wasn't too merciful with Enescu. He deserved to be better known these days.

Had ever Menuhin said to you something less known to the large audience about Enescu?
He sometimes described me the Enescu's way of playing, the robustness of his sound. He had a special way of using the stick that Menuhin also adopted at 10-11 years old. We called it 'portato', but actually it is 'parlando', we used the stick to talk. The stick is pressed on the strings to create the sound - and Enescu is the master of this type of playing. If one listens to Enescu playing Bach and Menuhin doing the same thing at the age of 13, he will observe that is the same style.
Menuhin was also talking about the Enescu's technique; even he didn't consider Enescu of being a technic teacher, but a music one, as he considered his master. Enescu was the one who said to Menuhin: "If you study only with me, you will play only in the Romanian style, so you have to learn other styles, too." He put Menuhin in touch with Adolf Busch and convinced him to take him as a pupil that little violinist at 12-13 years old to teach him German music: Brahms, Bach, and Beethoven. This was incredibly important and generous thing from Enescu, who was like a father to Menuhin.
Another story that I know and it is not so personal, but Menuhin himself told me is linked with the moment that he met Enescu for the first time when he was a child. At the beginning, he had to learn from Ysaye; Menuhin fantastically played the Spanish Symphony to Ysaye and Ysaye said: "Very good young man, but now sing me a scale". But Menuhin had never learned how to sing a scale. He tried to sing a scale, but he didn't managed. Ysaye burst into laugh and said to him: "I know it!" Menuhin was shocked and so traumatized by this experience that he said: "I don't want to study from this man".
This reason led him to Enescu considered the other great teacher of those times in Europe. The problem was that there were no places at the violin class of Enescu. Therefore, Menuhin's mother took him to Paris where Enescu had a concert. She left him there - another amazing fact - and said to him: "You must convince him to become your teacher. Do not return home, until you managed it." And so this 12-year-child waited till all the people had left the backstage and he presented himself in front of Enescu, who was tired, ready to go home. And Menuhin said: "Mister Enescu, I have to study with you". Enescu replayed: "I am sorry, little one, tomorrow I leave for a tour; and I have no place in the class. I am sorry" "You don't understand, sir, I must study with you". And he continued to insist. Enescu was so impressed by this child that he said: "Come to my place tomorrow and you can sing me for 20 minutes until I left and I will tell you my opinion." Therefore, the following day, Menuhin sang to Enescu and after 5 minutes, Enescu canceled all his plans and said: "I don't go anywhere. Stay here!"

Daniel Hope talking about the first work on this album, the Violin and Orchestra Concert in D minor by Felix Mendelssohn.
The Concert was discovered in the '50s of the 20th century by Yehudi Menuhin, after he received a tip from a seller of manuscripts in London, Albi Rosenthal, who founded two manuscripts, a concert and a sonata. He gave to Yehundi the chance to buy it, and he did it immediately and he discovered this wonderful music sheet written by Mendelssohn at the age of 12. Menuhin took the right to play it and so, in 1952 he sang it at Carnegie Hall. In that moment the entire world regained a new work by Mendelssohn, an opus that we played it many times together - he was directing and I was soloist. Mendelssohn was an extremely important composer for Menuhin. It was the composer's work that he played in Germany, in 1947 - as you know, the Mendelssohn's music was forbidden by the Nazis.

Forward on this album the "Unfinished Journey", an unfinished work by Bechara El Khoury, a contemporary composer, born in 1957.
Bechara is a friend of mine; he is a Franco-Lebanese composer. He left Lebanon in the '70s when he came in Paris and became an important name for the French contemporary music. Kurt Masur presented Bechara to me; he asked Bechara a concert and the music pleased him very much. We met in Paris 15 years ago and we are friends since then. In 2009, when 10 years passed from the death of Menuhin, I asked him to compose me a work in the memory of Menuhin. This is Unfinished Journey, the name of the autobiography of Menuhin. I think it is an emotional work, made in a very good manner that combines elements from East side with those of the West side. The combination would impress Menuhin, if we just think about his partnership with Ravi Shankar. Bechara is the same type. He combines the Eastern tradition with the Western one and portrayed Menuhin very well.

Daniel Hope and the Basel Chamber Orchestra had also recorded on the "My tribute to Yehudi Menuhin" the "Duet" by Steve Reich.
The Duet by Steve Reich is a work ordered for the 80th anniversary of Yehudi Menuhin. A violinist from New York ordered many composers, inclusively Steve Reich, to write works for one or two violins and an orchestra. Normally, we can't make an association between Menuhin and Steve Reich, because the ways of expression are very different: the minimalistic way for Steve Reich. But Menuhin liked this work very much. I also like very much Steve Reich's music. I have just received a mail from him in which he wrote that he listened to CD and it seemed to him the best interpretation of this work. So, I have a beautiful morning…

The Concert Catalogue 522 in minor A for two violins and an orchestra by Antonio Vivaldi.
This Concert of Vivaldi, the Catalogue 522 is one of the works that I used to sing together with Menuhin when I was a child. Many teachers choose this concert in minor A to sing it with their pupils: it is a way to integrate them, to show them how is to sing together. The music of this concert refers to this, to sing together, to develop a relationship with another partner. I think that the most often I played together with Menuhin two concerts for two violins and an orchestra: that of Bach and this of Vivaldi. I thought that this concert will offer a special color to the album, something fresh, even if my style of interpreting Baroque music is totally different from Menuhin's. But I was helped and inspired by the other violinist: Simos Papanas, that I considered one of the greatest young talents for the interpretation of Baroque music at a world-wide level. Simos Papanas is a Greek young violinist that I consider absolutely incredible. It was a great pleasure to play together with him.

"Song of Angel" by John Tavener
"The Song of Ange"l is part of the same collection ordered with the occasion of the 80th anniversary of Menuhin. John Tavener was a great British composer that I'd also known because we actually had been colleagues at Highgate in London. The expression of his music is very spiritual and so beautiful. I thought that will fit well with the CD's personality. In this way it was shown the diversity of the Menuhin's personality. He dealt with so many musical styles and Tavener have shared the same spirituality with Menuhin.

"Adagio" by Hans Werner Henze
The "Adagio" by Hans Werner Henze was also a work ordered by Menuhin for a concert at Hesse, in Germany. It's a very beautiful work and a special one from what Henze usually write. Besides, what impressed me in what concerns all these contemporary works was the fact that, indeed, they all changed their style of writing because their works were for Menuhin. He has a great influence over their minds and souls. Therefore, we have here another Henze, a work that concentrated the warm and humanity of Menuhin.
The last works on the "My tribute to Yehudi Menuhin" album are "Salut d'amour" by Edward Elgar and "Kaddisch" from "Two Hebraic Songs" by Maurice Ravel. If the existence of the last work on the CD has an obvious significance, I asked Daniel Hope about "Salut d'amour" by Elgar.
"Salut d'amour" by Elgar is a work that Menuhin used to sing better than any other on the Earth. The first records with this work are truly lovely. Elgar himself was an inspiring personality, his Violin and Orchestra Concert was interpreted by Menuhin and even by me for many times. I still thing it these days. I couldn't record on the CD this concert, because it takes about an hour but I wanted to show somehow the English spirit of Menuhin and to show my appreciation for this great musician.

How would have been Menuhin today, if he had been alive?
If he had been alive, I think he was the first person waiting at the frontiers and accepting the refugees. I think he would have been angry and sad about what is happening now in Europe and about the fact that Europeans turns their back to the ones in need. Menuhin had very clear political opinions and he expressed them very bluntly. He truly believed in the European Union concept, therefore he would have been shocked by what is happening these days. In other meanings, I think he would have made music, have encouraged the young musicians and have shared the music's message that means love. Music and love: the most important things in my life, probably in his, too.
Daniel Hope and his tribute brought to Yehudi Menuhin, his master and spiritual grandfather, as he liked to call him. "My tribute to Yehudi Menuhin" - a fascinating fresh innovative very well singed album - qualities that we would have added to Menuhin, this extraordinary personality of the 20th century, linked with the Romanian spirit through his special relationship with George Enescu. It is an album that brought Enescu, in this period of time, in the attention of the entire world because the CD is aggressively promoted world-wide.
Cristina Comandașu
Translated by Negoiță Roxana-Beatrice
MTTLC, the University of Bucharest