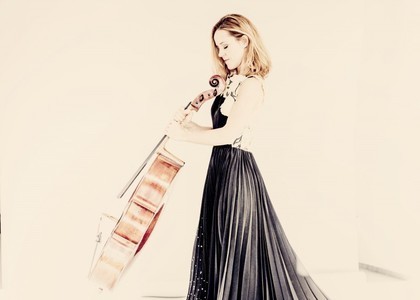 Sol Gabetta - Vasks: 'Presence' on CD Review, 10th March
Thursday, 10 March 2016 , ora 11.30

If you would like to vote for this cd please vote HERE
A worldwide recording premiere
It's entitled Sol Gabetta - Vasks: Presence and was released on 13th November last year. Special attention is given to the worldwide recording premiere of Concerto No. 2 for Cello and String Orchestra "Presence" (Klātbūtne), created by the Latvian composer Peteris Vasks. Vasks's music has evolved from Lutosławski, Penderecki and Crumb's influences to Latvian folklore elements. By and large, his music has a solid harmonic foundation which combines lyrical passages with tense dissonant plans or disrupts sobriety-filled sections like those in a funeral march.
Sol Gabetta wished to perform Peteris Vasks's concert for cello. And his wish came true with the collaboration of several institutions which have ordered the work: Amsterdam Sinfonietta, Cello Biennale Amsterdam, Eduard van Beinum Foundation and Istanbul International Music Festival. The work was interpreted for the first time on 25th October 2012 at Bijloke Music Centre in Ghent, in the company of the Amsterdam Sinfonietta Orchestra, conducted by Candida Thompson. This first performance has been followed by other three artistic appearances in Germany at Ludwigsburg and Düsseldorf, and afterwards, Sol Gabetta and the aforementioned orchestra came back in Netherlands, at Muziekgebouw in Amsterdam. All these performances during concerts have had positive feedback, which has convinced the artists and composer to release an album with the work.
Peteris Vasks has been closely involved with recording the concert. The music you will listen on this album proves Vasks's versatility to highlight different and various sonorous worlds in a writing rich in lyrical infusions which Sol Gabetta interprets with a lot of passion.

An album with three premieres
Besides the worldwide premiere recording of the cello concert, we will also listen to Sol Gabetta singing and playing at her instrument during the recording of the solo cello score Gramata Cellam, a work also signed by Peteris Vasks. The third novelty is the recording of the work Musique du Soir, with the same component signature, the score for cello and organ, which Sol Gabetta interprets alongside her mother, the organ player Irène Timacheff - Gabetta.
Therefore, these are some arguments as to why one should consider voting for the album Sol Gabetta - Vasks: "Presence", when participating to the campaign Vote for the Classical Album of 2016
Do not miss the CD-Review rubric from Arpeggio, on Thursday, 10th March at Radio Romania Music.
Gabriel Marica
Translated by Irina Mihai
MTTLC, University of Bucharest