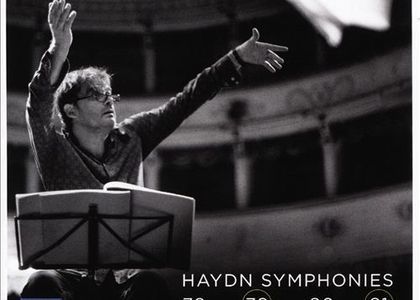 In the Age of Joseph Haydn with 'Accademia Bizantina' conducted by Ottavio Dantone
Tuesday, 15 March 2016 , ora 15.08

The complete works for the first time - a daring project.
This is a daring project and I hope Decca Classics will complete it successfully. There have been other attempts. I would mention here the incomplete series started by Hogwood and his Academy of Early Music, and also Roy Goodman's Project with Hanover Band. This is yet another promising start, which I will be very interested in following, for our listeners. And in order to encourage this project, during four editions of CD Review I will present you this Haydn album, which was released of February 5th, 2016. A series recorded by the "Accademia Bizantina" Ensemble conducted by Ottavio Dantone, this album brings you four symphonies, from number 78 to number 81.

The trend of performing on period instruments
During the last five decades, the world of music was taken by storm by this very active movement of performing early music on period instruments. Considered by some as supererogatory, and appreciated by others for the efforts the performers make in order to transport us to the era in which that music was created, this movement, if I may use this term, has created a veritable culture of period instruments. That is why today there are very few works, at least with respect to the orchestral repertoire, that have not been interpreted this way and with the instruments of the period in which they were composed, either in concert performances or recordings. Among the omitted works, so to speak, are some of Joseph Haydn's symphonies. Two of the symphonies included on this album, Symphony no. 79 in F major and Symphony no. 81 in G major are recorded in this manner for the very first time by the "Accademia Bizantina" Ensemble, conducted by Ottavio Dantone. "Accademia Bizantina" Ensemble was founded in 1983 in Ravenna, Italy, as a string quartet and they have worked without a conductor for a long time. In the over 30 years of activity, several renowned musicians have contributed to the artistic growth of the ensemble. Among them I would mention Jorg Demus, Carlo Chiarappa, Luciano Berio and Riccardo Muti. As of 1996 the artistic director of "Accademia Bizantina" is harpsichordist Ottavio Dantone, who has led the ensemble towards early music without any stylistic compromises. "Accademia Bizantina" Ensemble's approach to early music is a combination of minute historical research and the study of interpretation with period instruments. The results of this approach are the series of numerous concerts, but also a valuable and rich discography achieved in collaboration with prestigious labels, among which I would mention Deutsche Grammophon, Harmonia Mundi and, of course, Decca Classics. One of their most recent achievements is the Bach album recorded with the violinist Viktoria Mullova.
Also, the album dedicated to Vivaldi, together with violinist Giuliano Carmignola, and last, but not least, the album "Purcell - O solitude", recorded with countertenor Andreas Scholl.
With a rich and valuable artistic track record, their album is a promising start for this ample Haydn project, which you should consider when casting your vote for the Radio Romania Music campaign "Vote for the classical album of the year 2016".
You can listen to the symphonies no. 78-81 of Joseph Haydn for the first time at the CD review segment of "Arpeggio", during the editions scheduled on March 15th, 17th, 22nd and 23rd, at 11.30.
Gabriel Marica
Translated by Elena Gherca
MTTLC, the University of Bucharest