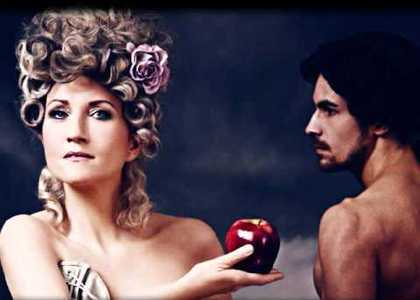 Love- the album of the soprano Simone Kermes - The voice with the infinite breath
Friday, 6 May 2016 , ora 11.08

If you would like to vote for this cd please vote HERE
She is one of the singers who is now leading the old music interpreters. I cannot not notice the unique legato, the silver purity of her voice which makes Simone Kermes to have such a special voice. She has all the technical assets and an admirable control of her vocal colouring, from the white, non-vibrant sound up to most filled with tensions close to the wagnerian drama, of course, within her own limits as a coloratura soprano. But what impresses us the most is her breath which seems endless and allows her to draw melodic lines similar to an orchestra, rich in arabesques and decorations. It seems that this breathing technique wasn't unknown to the singers from the 17th century. From the peak of baroque to our times, this miraculous amplitude faded away gradually, at least for us. Simone Kesmes also shows in her numerous concerts recorded proof that she has apparently found "the philosophal stone" of this vocal technique which she proudly displays during her scenic or discographic appearances. I couldn't say she is the only one, Cecilia Bartoli popping immediatly in my head, but this is an unsignificant detail compared to the pleasure of listening to her.
Simone Kermes is a well-awarded coloratura soprano. For her solo albums, she was given a couple of international awards, such as the Annual Prize Deutsche Schallplattenkritik, the Echo Klassik prize in 2011- "The singer of the year", Diapason d'Or, the Midem prize and many more. In April 2013, she has been awarded one of the most important Russian cultural prizes, Golden Mask, for her excelent scenic performance as Fiordiligi from the opera "Cosi fan tutte" by Mozzart, at the Tchaikovsky State Academic Theatre in Perm.

An album with a pop look?
Love is an album which resembles very much with the pop or even rock albums. And that's because the Sony Classical editor wanted to show us by all means that our experiences didn't change, that the music of people such as Tarquinio Merula, Claudio Monteverdi, Antoine Boesset, Barbara Strozzi, Henry Purcell, Francesco Mannelli, Michael Lambert, Luis de Briceno, Gionvanni Legranzi, John Eccles, Antonio Cesti or John Dowland is incredibly actual. By their content, the artists convince me entirely. Simone Kermes with her vivid interpretation, her excelent diction, whether we are speaking about Italian, Spanish or Shakespearian English, with the decor created by the Orchestra "La Magnifica Comunita"- conductor Enrico Casazza- it all completes with each other into a music that you listen to with great pleasure. I can't think of another reason but the rather forced desire to launch a modern album for not putting not a single composer of these love arias on the album's cover.
Still, beside this thing, I recommend you to vote this album in our campaign "Vote the Classical music album of 2016".
Written by Gabriel Marica
Translated by Matei Denisa
(MTTLC, University of Bucharest)