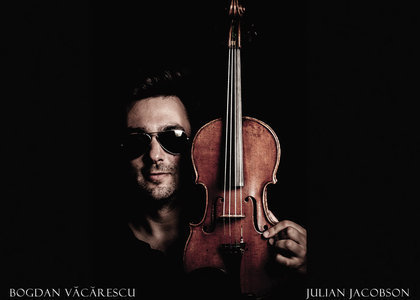 Violinist Bogdan Văcărescu - The 'Violin and Piano Thrillers' Album: Radio Romania Music's Interviews, 5th May
Thursday, 5 May 2016 , ora 10.01

If you would like to vote for this cd please vote HERE
The Romanian violinist who graduated the National University of Music Bucharest and the Royal Academy of Music in London. The violinist who can perform well classical, rock, world music or soundtracks. The violinist who settled down in the UK, the violinist who has collaborated with Nigel Kennedy and renowned soundtrack composers, as Gabriel Yared and Stephen Warbeck. The violinist who definitely deserves to be better known in his native country.
At the end of last year, Bogdan Văcărescu has released a CD, for which he has initiated a crowd funding raise (a successful one) on a social network. Radio Romania Music has supported this initiative throughout the year 2015 and I am glad that on the 5th May, we are presented the opportunity to listen to its result: the Violin and Piano Thrillers Album.
What one can find on this album? Masterful works (for violin and piano, the piano player is Julian Jacobson) who have made Bogdan Văcărescu faimous, but one can also find Antonio Bazzini's renowned La Ronde de Lutins or Johannes Brahms's Ungarische Tänze No. 17. But there is also George Enescu's Sonata No. 2 for Violin and Piano.
It is the first CD made by Bogdan Văcărescu and about which he himself will tell us numerous interesting details Thursday, 5th May, at 19:00. You can listen to us live on radio and you can also see us on www.romania-muzical.ro.
Cristina Comandașu
Translated by Irina Mihai
MTTLC, University of Bucharest