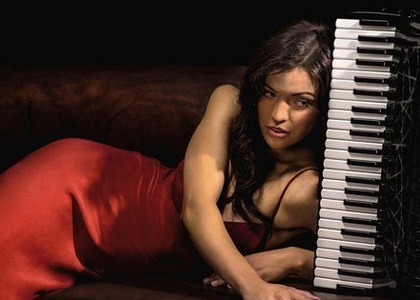 Ksenija Sidorova- 'Carmen' album
Tuesday, 9 August 2016 , ora 8.51

If you would like to vote for this cd please vote HERE

The 3rd of March is the date at which this unique album, so suitable for the summer time, was released: Carmen- signed by accordionist Ksenija Sidorova, an album that I present to you during the campaign Vote for the year's best classical music album.
Well, it's a real experience listening and also seeing Ksenija Sidorova- an extremely talented 28 years old musician, who turns the accordion into a real star, while building an original repertoire, at the borders of classical music, world music and jazz. And Georges Bizet's music from Carmen fits Ksenija Sidorova perfectly, because she herself is a Carmen- passionate, strong, interesting and free.
I also understand the stake placed by the renowned record label Deutsche Grammophon by releasing this album: lately, the majority of the big record labels try to lay stress on offbeat performers or on repertoires rarely approached, including those belonging to the classical music area- and Ksenija Sidorova, with her obvious charisma, was the perfect candidate for a new project.
Ksenija Sidorova was born in Riga and started studying accordion at the age of 8, encouraged by her grandmother. She continued her studies in London, at the renowned Royal Academy of Music. The first and most important appearance on stage: in 2009, at Wigmore Hall recitals and then, next to important orchestras from Europe. She is one of the permanent partners of stage of another offbeat musician, who turned the instrument from Cinderella into a star- the mandolinist Avi Avital, next to whom she successfully toured throughout the USA.
Ksenija Sidorova's career has only started, but I believe that the album Carmen will definitely put her among the celebrities of the beginning of the XXIst century.
Therefore, in 52 minutes, you will find Carmen opera with its most renowned themes, sometimes sung in a rather jazzy style. Ksenija Sidorova is accompanied by Borusan Istanbul Philharmonic Orchesta, conducted by Sascha Goetzel, and also by the Nuevo Mundo chorus, conducted by Michael Abramovich, by the guitarist Reentko Dirks and the percussionist Itamar Doari.
Cristina Comandașu
Translated by Raluca Ilie
MTTLC, the University of Bucharest, 2nd Year