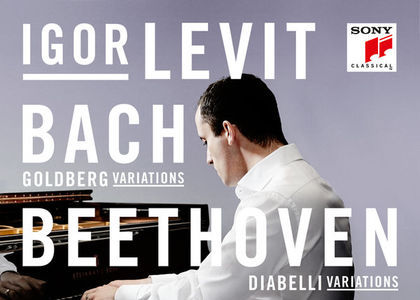 The pianist Igor Levit- The Goldberg Variations: Music box, the 11th of June
Friday, 1 July 2016 , ora 9.03

If you would like to vote for this cd please vote HERE

I present you a CD which was released at the end of October 2015, an album which was encountered with enthusiasm by the international press: the protagonist is the pianist Igor Levit and on this album one can find among other songs, Goldberg Variations by Johann Sebastian Bach, a work which we will listen to on the 11th of July. On the other two CD's of this album there are : The variations by Beethoven on a theme of Diabelli and The Variations of Frederic Rzewski having the subject : "The People United Will Never Be Defeated".
The album was designated as the best disc of November 2015 by the Gramophone magazine and also the best disc of January 2016 by the BBC Music Magazine. The disc will be presented at Radio Romania Muzical within the campaign Vote the classical music disc of the year 2016.
Igor Levit will turn 29 this year, but his accomplishments far exceed the expectations of someone of his age. He was born in Russia, in Nijni Novgorod and he began studying the piano at the age of 3 years old. In 1995, when he was 8 years old, he moved together with his family in Germany, at Hanovra where he has been studying since the year 2000. Igor Levit is the laureate of some prestigious competitions: at least as important as the others was his designation as BBC Radio 3 New generation artist between 2011-2013. And of course the fact that he has a contract with a well-known record company, Sony, where he has already released 3 CD's: the first one was released in 2013 and it was rewarded with Newcomer Award by BBC Music Magazine and an Echo award; the second one, with partitas by Bach was designated as the disc of October 2014 within Gramophone magazine; the third one- the album which we are listening to today is a new landmark in his interpretative becoming.
Actually to play the Goldberg Variations in the style of Glenn Gould is a real challenge for every pianist, especially for a young one. But Igor Levit has the courage to affirm his own voice: The Goldberg Variations are played in a style which combines austerity with the free adornment of the baroque style. Igor Levit creates a story which he narrates as a bacchic Scheherazade in a surprinsingly long time: the record lasts for almost 80 minutes, which is duble than the duration of the Goldberg Variations in the first version recorded by Glenn Gould.
A fascinating adventure- an exceptionally pianist in one of the most pretentious bacchic works- the Goldberg Variations and the same feeling that the pianist plays the piano near the one who is listening - we hear the same breathing sounds as in Glenn Gloud's versions.
Igor Levit's album can be listened to on Monday, the 11th of July, at 19:00.
Cristina Comandașu
Translated by Teodora Avram
MTTLC, University of Bucharest