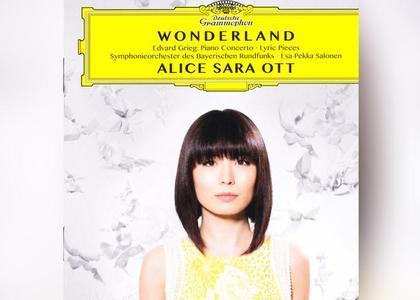 Music Box, 12th September: Female Pianist Alice Sara Ott - The 'Wonderland' Album
Monday, 12 September 2016 , ora 11.11

If you would like to vote for this cd please vote HERE
The Romanian premiere of female pianist Alice Sara Ott's Wonderland, a disc released on 9th September 2016 by Deutsche Grammophon Classical Music Label presents a land of wonders with elves, dwarfs and fiords, Edvard Grieg's Norway. On this new disc, Alice Sara Ott performs Edvard Grieg's famous Piano Concerto in A Minor and some of this Norwegian romantic's most renowned piano solo works. This album is also part of Radio Romania Music's Campaign 'Vote the Best Classical Album of 2016'
In 2011 and 2012, I had the chance to listen to Alice Sara Ott's live performance, in March 2012 she performed at Radio Romania Music's 15th anniversary concert. And listening to her perform live was more fascinating than listening to her recordings. Alice Sara Ott is a female pianist with a very special talent: she has a man's manual dexterity and power and a woman's sensitivity, unbelievable technical dexterity and the ability to keep the audience on the edges of their seats. All of these are features that could hint to a high-level performance of Edvard Grieg's Piano Concerto, which actually took place. As proof, listen to a recording of Alice Sara Ott's live concert performed alongside the Bavarian Radio Symphony Orchestra in Munich, under the baton of conductor Esa-Pekka Salonen.
Alice Sara Ott was presented as one of the most interesting and unique female pianist from the new generation, on 1st August she reached twenty-eight years old, but her accomplishments up to today can be considered to be an older artist's accomplishments. Let us examine her discography: Wonderland is her eight album signed for one of the most important contemporary label, Deutsche Grammophon, while her first album was recorded when she was barely twenty years old. As for the tournaments, she holds a concert regularly since she was sixteen years old, with a frequency which may seem overwhelming: on average a concert every three days. Let us consult her schedule for the rest of the year: a tournament in Japan between 27th September and 9th October: thirteen days and ten recitals. On 14th November - concert at Sankt Petersburg, on 15th November - concert at London. And it goes on just like this…
With an iron-willpower and physique, Alice Sara Ott succeeds in combining the characteristics of two cultures - she is situated at a cultural crossroad: her mother is Japanese and her father is German - even though, in reality she doesn't feel at home in neither one of those cultures: she declared in an interview that in Germany she is considered to be Japanese and in Japan people talk in English to her.
In an interview I conducted in 2011, I asked Alice Sara Ott what she wishes for, since she has already accomplished so much. This was her answer:
'One can never say you achieved too much. There is always room for growth, for evolution. As I have already told you, my utmost purpose is to be a happy person. Of course, I dream of performing with a certain orchestra or in a certain hall, but I don't wish to rush things, because I don't want to become a shooting star, I want to have a long life as a musician. I want to take my time to enjoy life and to discover music's hidden meanings.'
Wonderland is a disc on which one can find excerpts from the Peer Gynt Suite, but also a series of Grieg's lyric pieces and this disc can be listened to at Radio Romania Music, on Monday, 12th September, at 19:00 and during the rerun on Sunday 18th September, at 13:05.
Cristina Comandașu
Translated by Irina MihaiMTTLC, University of Bucharest, 2nd year