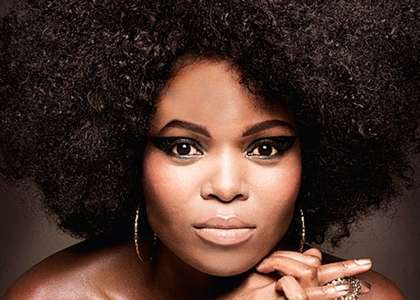 'Arias'- the album of the South-African soprano Pumeza Matshikiza that was released on the 16th of May 2016, will be played at CD Review on the 16th of September
Friday, 16 September 2016 , ora 9.42

If you would like to vote for this cd please vote HERE

It's about the South-African lyrical soprano Pumeza Matshikiza, one of the promising voices of the moment, known to the audience since 2014 when she made her debut at the Decca record company with the Voice of Hope album. This is her second album, called "Arias", and it's created with the same famous record company, being released in May, this year; a programme where the singer shows us where she is now, on her way to celebrity, singing arias from works such as Henry Purcell or Giacomo Puccini, but also songs with special arrangements by Gabriel Faure, Reynaldo Hahn or PaoloTosti among others. The album which you are listening now in premiere is included in the campaign "Vote for the classical music album of 2016".

Who is Pumeza Matshikiza?
She was born in Eastern Cape, South Africa, studied at the Music College and at the Cape Town University, but also at the Royal College of Music in London, thanks to a full scholarship. The young soprano has participated to artistry classes of renowned artists such as Kiri Te Kanawa, Sir Thomas Allen, Renata Scotto, Joan Rogers, Paul Farrington, Philip Langridge and Ileana Cotrubaș. At her age of 38 years old, Pumeza Matshikiza is still a rising voice. In October, last year, she made her debut in Rome with the Orchestra of dell'Accademia Santa Cecilia, conducted by Antonio Pappano, performing in premiere the work of Luca Francesconi, entitled Bread, Water and Salt, inspired by the famous speech of the legendary Nelson Mandela. In February, this year, Matshikiza performed this song in Paris with the Orchestra of Radio France's Harmonium, conducted by Mikko Franck.
On the stage of the lyrical theatre, the singer was casted in important parts of Operas such as Boema de Puccini, Carmen de Bizet, Figaro's wedding, Don Giovanni and the Enchanted Flute by Mozart, but also Freischuz de Weber at the State Opera in Stuttgart. Pumeza Matshikiza can be also heard in recitals in London, at Concertgebouw in Amsterdam and at Salle Gaveau in Paris.
In April 2016 she has sang Puccini and Gershwin with the American pop superstar Josh Groban, in a tour in her native country, South Africa.
Pumeza Matshikiza, an artist with a life experience worth of a movie script. She says: Have I been through a lot in my life? I think I have. But this was normal in my native country. I will never forget the terrible things that I had lived in my childhood- the image of that man that was shot right on our porch...All these experiences made me who I am.

A vocal diamond still to be perfected
Arias- an album selected for the "Vote for the classical music album of 2016" precisely for the versatility that this bold voice has, smooth and unitary in every way, capable to shift easily from the classical repertoire to, let's say, Cuban-inspired songs.
Pumeza Matshikiza is a good example of a rising star. She gives me the impression of an exotic diamond which showed up in the lyrical universe, still to be perfected, which bringsa fresh vibe on the concert and opera stages.
That's why I invite you to listen Pumeza Matshikiza on the 16th of September at 12:15 at CD Review.
Gabriel Marica
Translated by Matei DenisaTTLC, University of Bucharest, 2nd year