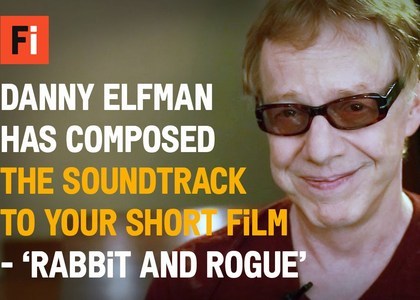 The music of the 'Rabbit & Rogue' ballet by Danny Elfman at CD Review on the 19th of September
Monday, 19 September 2016 , ora 9.56

If you would like to vote for this cd please vote HERE
Who is Danny Elfman?
Grammy winner and 4 times Oscar nominee, Danny Elfman is also the creator of the Rabbit & Rogue ballet's music, a show that was performed in premiere at the Metropolitan Opera in New York in 2008. Danny Elfman recorded the sheets of this ballet for an album that was released on the 7th of June 2016 with Berlin Session Orchestra, conducted by the composer, the one whom you'll be listening as a pianist, too.
Danny Elfman is well-known for the collaboration with the director Tim Burton. In the world of film music, he has a certain way to approach the contemporary movie and he manages to add colour to the SF movies with superheroes of all kinds. He is the son of the novel writer Blossom Elfman; Danny started his career in 1985 when he started his collaboration with the director TimBurton. For the Batman's soundtrack, Danny Elfman was given a Grammy. In 1997, the success of Good Will Hunting and Men in Black brought him the first Oscar nominalizations. His marriage with the actress Bridget Fonda in 2003 and especially the movies' success which he composed the music for, are the reasons why today, at least in Hollywood, Danny Elfman is a celebrity.

I'm Danny Elfman and I composed the soundtrack of your short-film
Why did I choose this album to be part of the campaign "Vote the classical music album of 2016"? Because it's contemporary music which says something. It has artistic quality, originality, the composing tools are well-used, the music itself stays true to itself, it creates characters, making them interract. There is a script, a story, meaning, direction, a starting point, culmination and conclusion, in a visual and cinematic flow. Here are enough arguments for you to be curious to listen the selected fragments of "Rabbit and Rogue" ballet by Danny Elfman.
And one more thing. The composer said that this album's music it's not under copywrite rights, so that the young film makers who participate at the Film Festival in Los Angeles next year, can use this music for their short-films, starting from this ballet's theme.
Danny Elfman is a giant among the film music composers and, knowing the high cost in obtaining an original song, especially by independent film makers, has offered generously this album's music for free- has declared Stephanie Allain, the manager of the Film Festival in Los Angeles.

That's why you mustn't miss on Monday, the 19th of September at 12:15 on Radio România Muzical, at CD Review.
Gabriel Marica
Translated by Matei Denisa
TTLC, University of Bucharest, 2nd year