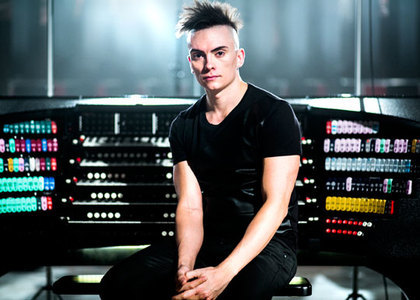 All You Need is Bach - the album of the organ player Cameron Carpenter, broadcasted in premiere at CD Review on the 22nd of September
Tuesday, 27 September 2016 , ora 16.30

If you would like to vote for this cd please vote HERE

Who is Cameron Carpenter?
Being very popular in the States, with his rebel and nonconformist haircut, dressed as a pop-rock star, Cameron Carpenter graduated the faimous Juilliard School in New York where he studied with Gerre Hancock, John Weaver and Paul Jacobs. Although he says he is not a religious person, between 2008 and 2009 he was an organ player at Middle Collegiate Church in East Village -New York where he played electronic and hand organ. During this time, he created and developed the musical repertoire performed during the religious sermons.
Cameron Carpenter is a virtuoso and an unique composer among organ players. New York Times describes him as being an extravagant talent, and The New Yorker says about him that he breaks classical and cultural music taboos. Cameron Carpenter is the first organ player ever nominated at the Grammy awards for his revolutionary debut album. It's about the record he released in 2008, recorded at Trinity Church on Wall Street in New York which also includes a transcription for organ of the Revolutionary Study op. 10 no. 12, by Chopin. Cameron Carpenter was nominated at the Grammys for The best solo instrumental performance.
All You Need is Bach
This is the title of the second solo album performed by Cameron Carpenter, hinting to the title of the famous Beatles song All You Need is Love, and his album is included in the RRM campaign "Vote the classical music album of 2016". And because the artist wants to break the stereotypes concerning the organ and the organ players and to literally reinvent this instrument, All You Need is Bach is recorded on the new organ International Touring. The organ which he plays, built after his specifications, can be loaded in a truck and assembled in a few hours. The instrument is digital and has the sonority of the most renowned organs in the world, at least this is what the artist says. With this instrument whose possibilities to express music seem to be endless, Cameron Carpenter promisses to accomplish an international tour, starting of course from Bach, to Beatles and beyond.
Coming back to the Bach album, Cameron Carpenter has included Contrapunctus IX from The Art of Fugue, Sonatas for organ in D minor and E flat Major, Prelude and Fugue in B minor, Invention no. 8 and the main element of the album, the great Passacaglia and Fugue in C minor. The latter has a special place in Carpenter's repertoire, being for sure in Top 10 musical masterpieces, he says.
Of course, the biggest organ music fans have reasons to shiver hearing these performances, perhaps too nonconformist here and there. Maybe this "something else" is too ostensive, but I think it's interesting to listen this energetic and talented artist whose true passion for Bach is shown in his contemporary interpretation and at the same time, filled with respect for the Master of Baroque.
Here's why I invite you to listen some fragments in premiere from the album albumul All You Need is Bach on the 22nd of September, at 12:15 during CD Review.
Gabriel Marica
Translated by Matei Denisa
(MTTLC, University of Bucharest, 2nd year)