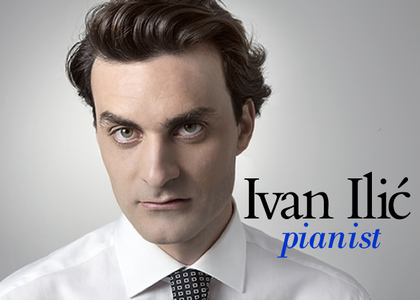 A Critique of Pure Music- The Album of the Pianist Ivan IliŠ in Premiere at CD Review from 13th October
Thursday, 13 October 2016 , ora 11.07

If you would like to vote for this cd please vote HERE

The Pianist of the Solo Repertoire
Ivan IliŠ is a Yugoslav artist, resident in Paris, a pianist that tries to pass over the path of celebrity. From his musical activity in the capital of France we mention interpretations of French music, especially Debussy it was a reason for him in 2008 to win a prize from Mezzo TV. He has a few nominations in the classical albums tops made by French publications in this domain like Brass Band and Classique News, English sites like The Daily Telegraph and German ones like Mitteldeutscher Rundfunk, but all of this didn`t manage him to pass over the path of celebrity which he aches for tenaciously. Of course, I am talking about the elite of the worldwide piano elite.
Ivan IliŠ has chosen to concentrate on the solo piano repertoire. In this domain he recorded scores from Bach, Haendel, Haydn, Beethoven, Chopin, Schumann, Liszt, Brahms, Godowsky, Debussy, Ravel, Lucien Durosoir. At the same time he added to his repertoire some contemporary music signed by John Metcalf, Keeril Makan, Dmitri Tymoczko and Morton Feldman. All Ivan IliŠ`s recordings are available on the Internet since June 2011. We need to mention the fact that Ivan IliŠ`s videoclips like Studies by Chopin- Godowsky on a certain musical site have attracted hundreds of thousands of visualizations.

A Critique of Pure Music
The Critic of Pure Music- is the title of the album recently launched by the pianist, an album with philosophical ideas with certain advantages like the compositions of the three "Big B"`s; Bach, Beethoven ║i Brahms. He recommends Johann Sebastian Bach- Partita in C minor, BWV 826, 3 Intermezzi, Op.117 by Johannes Brahms and Ludwig van Beethoven with Piano Sonata No.30.
Ivan IliŠ says: "The title is meant to evoke many things some of them indirectly. For example Immanuel Kant`s masterpiece Critique of Pure Reason (1781) although this reference may seem subversive in the context in which Kant affirmed that music without a text is common and cannot induce cultural pleasure because it has a lack of explained content. Perhaps Kant would have changed his mind if he had the chance to listen to Beethoven`s music. Ivan IliŠ is a pianist with a great curiosity keen to show the public that he has a very wide repertoire and that he adapts to any kind or musical period. We can see this in all of his numerous recordings. After the exploration of Morton Feldman`s revolutionary music, IliŠ returns to the fundaments of the piano literature on his most recent album. He says: "Johann Sebastian Bach is seen as a God, Beethoven like the man who transcends mortality like Jesus and Brahms is the rightful owner of the German musical traditions and therefore sacred through association." Ivan IliŠ tries to evidence himself and to challenge the unfavourable critics. As I said, I believe that IliŠ tries it too hard, he is very preoccupied by his ascension. We can feel that in his interpretations. I cannot deny his qualities, charisma and artistic inteligence, that`s why his album is chosen to take part in the "Vote for the Classical Album of 2016" in Radio Romania Music`s campaign.
All of these are arguments to listen to pianist Ivan IliŠ`s most recent discographic album in premiere at CD Review starting from 12.15 on the 13th October.
Gabriel Marica
Translated by Ilinca Dinulescu
MTTLC, AN II, University of Bucharest