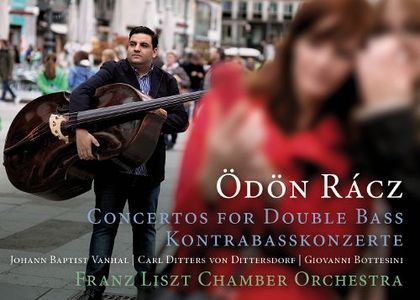 Concerts for Contrabass, Premiere Album- CD Review, 5th October
Wednesday, 5 October 2016 , ora 11.43

If you would like to vote for this cd please vote HERE

One of the Exceptional Players that make from the Contrabass a Soloistic Instrument
I would like to bring up to your attention an album in which the contrabass is a soloist, an instrument that only exceptional musicians manage to highlight it. Well Ödön Rácz is such a virtuoso, a Hungarian contrabassist that just turned 35 years old, an artist with an interesting soloistic record. In 1994, at 13 years old, he had the first public appearance at Budapest Music Academy after that he began his studies at St. Stephen`s Conservatory with Gergely Járdanyi, one of the students of the well-known Ludwig Streicher. Ödön Rácz is a laureate of a multitude of international contests like the Johann Prunner Contest, the 2002 edition or ARD Contest from 2003. In 2001 he was admitted at Vienna University of Music and Performing Arts where he studied with Alois Posch. In 1997, the contrabassist has released his first album with works signed by Giovanni Bottesini, Johann Matthias Sperger and Hans Fryba. Lately his appearances in the concert halls are accompanied by the Chamber Orchestra in Munchen, the Bavarian Radio Orchestra, Franz Liszt Chamber Orchestra, Haydn Orchestra, Stuttgart Philharmonic Orchestra or Hungary Virtuoso Ensemble.
Since 2004 Ödön Rácz is the contrabassist of the Vienna State Opera Orchestra and from 2009 he advanced to main contrabassist. The artist is in the possession of an instrument made by Michael Ignatius Stadlman in 1781.

Two Classics and One Romantic
The most recent album of Ödön Rácz was launched on 15th January this year under the prestigious Deutsche Grammophon emblem, an album that is part of the "Vote for the Classical Album of 2016". The collaboration with this well-known editorial emblem confirms the artisitc value of Ödön Rácz`s performance.
The contrabassist has chosen for this album a schedule made of three concerts, three of the most performed works from the literature dedicated to this instrument. It`s about the Concertos of two classical composers that were born in the same year of 1739, the Czech Johann Baptist Vanhal and the Austrian Karl Ditters von Dittersdorf and also with the work of the romantic Italian, Giovanni Bottesini, also a virtuoso of the contrabass. Ödön Rácz is accompanied by the Franz Liszt Chamber Orchestra.
It`s an album in which Ödön Rácz succeeds to erase the preconceived ideas that this instrument, expresses itself better as an accompanist. The artist has an impressive but still lovely technique. His sound is surprisingly soft yet it imposes. It`s nice, elegant and full of bonhomie. The rich harmonics pleasantly complete the melodic lines that easily impose over the accompaniment of the orchestra.
That is why I invite you to listen on the 5th October starting at 12.15, a recording in premiere of this album at CD Review.
Gabriel Marica
Translated by Ilinca Dinulescu
MTTLC, Second year