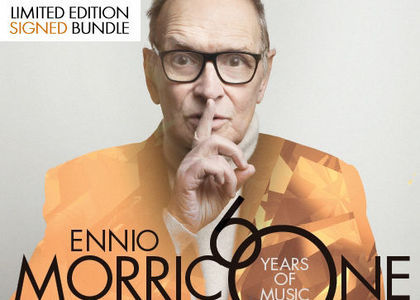 Morricone 60 - Album world premiere - CD review, October 7th
Friday, 7 October 2016 , ora 12.38

If you would like to vote for this cd please vote HERE
Composing over 600 works in 60 years
A world premiere for the album Morricone 60, a record that marks 60 years of activity of the legendary Italian composer of film soundtrack, Ennio Morricone. The album will debut on October 7th 2016 and it is highly anticipated worldwide, especially because the album contains some of the most popular and sung film theme songs, 2016 version, recorded by the Czech National Symphony Orchestra and Choir, conducted by Ennio Morricone himself. The composer is approaching his 88th birthday.
The audience will listen to extracts from the album Morricone 60, Decca Records' homage to one of the greatest film score composers, having written over 600 songs in 60 years of activity - as stated.

He was awarded only one Oscar out of 6 nominations.
Until 2013, Ennio Morricone had sold over 70 million records throughout the world. In 1971, he received the D'oro Targa award for his worldwide sales of 22 million copies. In 2007, he received the honorary Award from the Academy of Motion Picture Arts and Sciences for his outstanding and multifaceted contributions he offered to the art of film score. He was nominated 6 times for an Oscar. In 2016, Ennio Morricone was awarded his first Oscar for the soundtrack from director's Quentin Tarantino The Hateful Eight (2015). Among other personal achievements we include three Grammy awards, three Golden Globe awards, six BAFTA awards, ten David di Donatello, eleven Nastro d'Argento (Silver Ribbon), two European Film awards, a Golden Lion award as well as the Honorary Award and the Music Prize Polar in 2010.

Morricone 60
Ennio Morricone said: After the success I have had thanks to "The Hateful Eight" soundtrack, I am delighted to return to Decca Records for the production of my own discography - an extraordinary moment in my 60th year of my career. Working with the Czech National Symphony Orchestra and Choir was a delightful experience. The quality of their interpretation is quite remarkable. The collaboration with the aforementioned ensembles began the moment the composer started planning a Morricone 60 world tour.
The album Morricone 60 is the first Best Of album produced and interpreted by Ennio Morricone himself. It is his endeavor to create a legacy to leave behind to those who enjoy classic films. The album we suggest for our campaign "Vote 2016's classical music record" contains famous theme songs from movies such as The Mission (1986), The Good the Bad and the Ugly (1966), A Fistful of Dynamite (1971), Once Upon a Time in the West (1972), Nuovo Cinema Paradiso (1989), Metti una Sera a Cena (2006) or The Hateful Eight (2015), reinterpreted by the composer as the conductor of the Czech National Symphony Orchestra and Choir.
These are just a few reasons to listen to the first global audition of these extracts on October 7th at CD Review (12.15).
Gabriel Marica
Translated by Ruxandra Vorotneac
MTTLC 1ST Year University of Bucharest