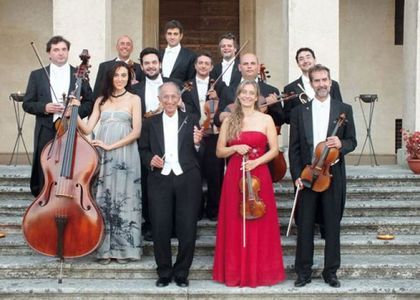 Ottorino Respighi - Vilanella - Ancient Airs and Dances - brand-new album at CD Review, on the 10th and 11th of October
Monday, 10 October 2016 , ora 11.35

If you would like to vote for this cd please vote HERE
An ensemble that has made its reputation by performing Italian Baroque music
The I Solisti Veneti ensemble, conducted by Claudio Scimone, a prestigious interpretative name, recommends this album for Radio Romania Muzical's "Vote for the Classical Music Album of 2016" campaign.
Founded in Padua in 1959 by Claudio Scimone, the I Solisti Veneti ensemble has made its reputation primarily by performing Italian Baroque music. Some of its most referential recordings are the albums composed of scores by Antonio Vivaldi, Tomaso Albinoni, Francesco Geminiani, Marcello Benedetto, and Giuseppe Tartini. The violinists Giuliano Carmignola and Piero Toso are two of the artists who have stemmed from I Solisti Veneti. At the moment, the band has a record of over 350 recordings, especially on the Erato record label.
The ensemble has won numerous awards, including a Grammy and a Grand Prix du Disque. I Solisti Veneti has been all across the world, holding over 6000 concerts in over 90 countries. Many internationally acclaimed artists have collaborated with this band, among which Salvatore Accardo, Plácido Domingo, Jean-Pierre Rampal, Marilyn Horne, James Galway, Mstislav Rostropovich sau Sviatoslav Richter, Paul Badura-Skoda, Heinz Holliger and Ugo Orlandi.

One of the best renditions of this composition
The album to which I invite you to listen over the course of two CD Review episodes is dedicated to the Italian composer Ottorino Respighi, included in the Inspiration collection by Casa Erato. The programme is compiled of Ancient Airs and Dances Suite No. 1 and No. 3, The Birds Suite and the Botticelli Triptych.
Respighi's nostalgic notes are beautifully understood and played by I Solisti Veneti, an ensemble which is so familiar with the universe of old music. The passion for Renaissance and Baroque art, as seen through his own understanding; this is what Respighi wished us to discover in his music. He has crossed the barrier of time by enlivening the language and adding a splash of colour. And the rendition of I Solisti Veneti and its conductor, Claudio Scimone, is full of the understanding of Respighi's artistic aspirations. This is a music which radiates the joy and serenity of one who loves the architecture of pre-Classical forms and harmonies. It is a pleasant album, a relaxing hearing. Respighi's music, his reverence and comprehension of the Renaissance and the Baroque, of those times' art in general, meet with the instinct and skill of conveying a music with which the players are so familiar. I Solisti Veneti and Claudio Scimone have attained, with this album, one of the best renditions of these compositions by Ottorino Respighi.

Consequently, these have been the reasons why I invite you to listen to this brand-new album, at CD Review (12:15), on the 10th and 11th of October.
Gabriel Marica
Translated by Adriana-Cătălina Grigore
MTTLC 1st year, University of Bucharest