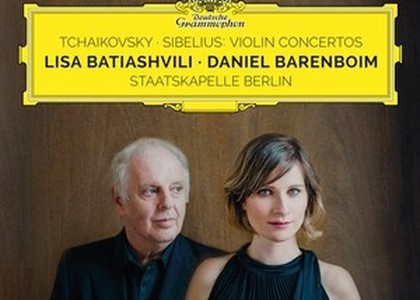 Lisa Batiashvili and the Staatskapelle Berlin led by Daniel Barenboim - Music box, 14th November
Monday, 14 November 2016 , ora 12.52

If you would like to vote for this cd please vote HERE

For the first time in Romania, a remarkable CD, praised already by international press, launched on the 4th November by the Deutsche Grammophon house: the Tchaikovsky and Sibelius Concertos for violin and orchestra, interpreted by Lisa Batiashvili and the Staatskapelle Berlin orchestra, conducted by Daniel Barenboim.
One of the most acclaimed violinists of our time, one of the oldest and quality-focused European orchestras, together with a legendary conductor, who makes history in our days - Daniel Barenboim - a sensational group, whose collaboration could only have resulted in an exceptional product, like the CD you are about to hear today as part of the "Vote for 2016's classical music CD of the year".
The collaboration between Batiashvili and Barenboim started in a somewhat unusual way - Barenboim saw a concert of Lisa with the Finnish Radio Symphony Orchestra on TV, called her and proposed to play together. The affinity between them was so high that Lisa Batiashvili has been a guest of honor to four of the State Opera for Everyone concerts that Barenboim has been holding during the last decade in Berlin, with a turnout of 40.000 people in every concert.
It comes as a bit of a surprise that neither Lisa Batiashvili, nor Barenboim have recorded so far Pyotr Ilyich Tchaikovsky's D Major Violin Concerto, one of the most famous violin scores. Yet on this very CD launched on 4th November, we have a superb version of Tchaikovsky's concerto, of which I will say what Barenboim himself says in the album's presentation video: "sentiment and emotion, not sentimentalism".
Lisa Batiashvili, the well-known 37-year-old Georgian violinist, has played Tchaikovsky's concerto several times so far, not too many though; she has a closer relationship with the second opus on this album: Sibelius' Violin Concerto has been present with her from her international debut until today. It is one of the concertos that she has interpreted the most; in 1995, when she was 16, Lisa Batiashvili was awarded second place at the Sibelius Competition for interpreting this concerto, which is an impressive achievement. I find it even more praise-worthy that Batiashvili confesses her gratitude towards the orchestra and the conductor for revealing new subtleties in this score, and taking a different path instead of a conventional one that had been trodden upon hundreds of times.
Sibelius' Violin Concerto played by Lisa Batiashvili and the Staatskapelle Berlin led by Daniel Barenboim is "magisterial", as one French annalist wrote, "one of the best versions of our times". That means, I may add, emotional, convincing, fresh, perfectly devised and exposed musically.
You can listen to the CD on Radio România Muzical, Monday 14th November at 7.00 PM, re-run on Sunday 20th November at 1.05 PM or anytime on the "Vote for 2016's classical music CD of the year" campaign's website.
Cristina Comandașu
Translated by Mihai Andrei Fulgescu
MTTLC an 2 Universitatea București, Facultatea de Limbi și Literaturi Străine