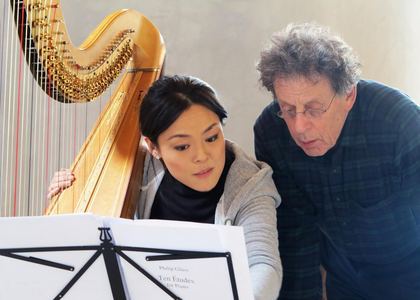 Glass Effect - an album in absolute premiere at CD Review on 3rd and 4th of November
Thursday, 3 November 2016 , ora 12.59

If you would like to vote for this cd please vote HERE
More than 5 years ago, the Dutch artist of Korean origins met the famous American composer Philip Glass, one of the most influential creators of 22nd century. This point of meeting would have marked for Lavinia Meijer the beginning of a new musical journey orientated to his minimalism. She bore up to Glass' creation because she was looking for new sonorous landscapes that she could explore with her instrument.
That was how she met Philip Glass in 2011. Then he invited Lavinia Meijer to collaborate for the concert that he performed in Amsterdam where the artist interpreted the harp song Metamorfoze.
You are the effect of this evening, Philip Glass declared after the show and then they planned to make an album that would have include some creations of the composer. This is how the first album Meijer - Glass appeared in 2012, the album that includes Metamorfoze and The Hours and which was given 5 stars not only by the European press.
Philip Glass contributed to the choice of this album's program, Glass Effect, an album in two volumes. The first one is dedicated to the piano studies signed by the composer with harp transcription made by Lavinia Meijer and the second one is dedicated to some creations made by some new composers that had an influence from Glass.

Glass Effect
Since 2015, Lavinia Meijer was concentrated on the harp transcription of the Piano Studies made by Philip Glass. It was a process in which the composer himself got involved a lot. Besides, the same Philip Glass gave his contribution in the choice of this fresh album, Glass Effect.
Lavinia Meijer wrote: The Piano Studies made by Philip Glass explore a variety of tempos, sonorous texts, techniques of creation and harmonies which give a wonderful overview of what means Glass in the contemporary music. He managed to create a change in the musical language of a 20-year-period, between 1991 and 2012.
The second volume of the album was made beginning with the idea of choosing a variety of composers that, each and every one, will give their contribution to complete the sonorous universe of Philip Glass. The Icelandic Olafur Arnalds, the Americans Bryce Dessner, Ellis Ludwig - Leone and Nico Muhly, the German Nils Frahm, the Belgian Wim Mertens, in Lavinia Meijer's opinion, are those who reinterpret the mastery of Glass in inovative ways.
It have to be said that Philip Glass will turn 80 in January 2017, and this album is Lavinia Meijer's special gift for him. The artist performs with passion and disengagement this music that represents for her an emotional journey in the sonorous univers. And the effect of her effort is a pleasant ambiance to listen to.
Here are the arguments to invite you, to listen in premiere some section from the Glass Effect album made by Lavinia Meijer, on CD Review (12,15), on 3rd and 4th of November.
Gabriel Marica
Translated by Negoiță Roxana-Beatrice
MTTLC, the University of Bucharest