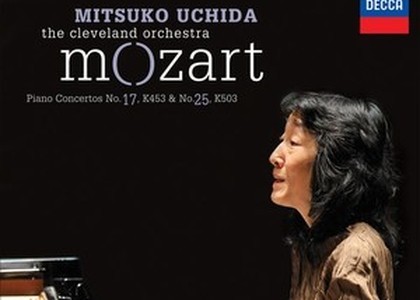 Pianist Mitsuko Uchida - Mozart's Concerto no. 17 and no. 25: Music box, 7th November
Monday, 7 November 2016 , ora 13.02

If you would like to vote for this cd please vote HERE
On the 28th of October 2016, Decca Records launched a new album comprising Mozart's Concerto no. 17 and no. 25, interpreted by pianist Mitsuko Uchida and the Cleveland Symphonic Orchestra. I must admit that I was eagerly looking forward to listening to another Mozart album played by Mitsuko Uchida, the British pianist with Japanese origins who is considered one of the best Mozart interpreters of our times. On November 7th, starting at 19:00, we will listen to the fifth and last record of the Mozart series, performed by Uchida along with the Cleveland Symphonic Orchestra, where she will not only play the piano, but she will also conduct the ensemble in probably the same manner that Mozart himself would interpret his concerts in the 18th century.
Between 2009 and 2016, Mitsuko Uchida launched complete recordings of 10 Mozart Concertos: 9, 17, 18, 19, 20, 21, 23, 24, 25 and 27, recordings performed with the Cleveland Symphonic Orchestra, being their artist in residence between 2002 and 2007. Listening to these recordings would be an extraordinary experience: there is chemistry between the solo pianist and the ensemble, a bond that is usually established between members of a chamber ensemble. And, obviously, Mitsuko Uchida seems perfect for interpreting Mozart - with an impeccable touch, with the ability to perform even the softest pianissimo that I have ever heard, fragile and yet extremely powerful.
Thus we have a Mozart record performed by a pianist who we've also known as "the haiku pianist" in the past and we still agree to the same idea today. Mitsuko Uchida has the rare ability of honing the music of Mozart as if it were a diamond, leaving aside any needless weight. She seems distant, be she is not - the feelings transpire beyond her sober and austere appearance. A totally unique experience: listening to Mitsuko Uchida, a pianist performing in Romania for the first time.
The album of pianist Mitsuko Uchida can be listened to at Radio România Muzical on Monday, November 7th, at 19:00, rerun on Sunday, November 13th, at 13:05 or anytime on the "Vote 2016's classical music record" campaign website.
Cristina Comandașu
Translated by Ruxandra Vorotneac
MTTLC 1st Year University of Bucharest