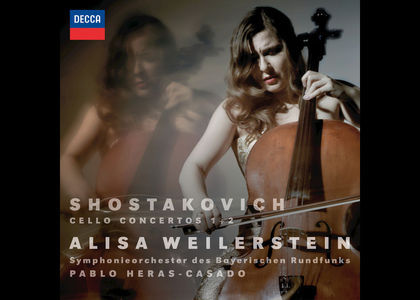 Cellist Alisa Weilerstein - Shostakovich Concertos: Music Box, on the 21st of November
Tuesday, 22 November 2016 , ora 13.22

If you would like to vote for this CD please vote HERE

I offer recommend you an album which has been released on the 23rd of September 2016 by the Decca publishing house in London; on the cover we see the name of the American violoncellist Alisa Weilerstein and that of the Bavarian Radio Symphony Orchestra from Munich, under the direction of Spanish conductor Pablo Heras Casado. And the repertoire is exciting, to say the least: Dmitri Shostakovich's two concertos for cello and orchestra.
The international media has called Alisa Weilerstein "the most important American cellist since Yo Yo Ma" - which offers a particularly distinguished status to this 34 year old musician who has already won many awards for her previous albums published on the Decca record label.
The Weilerstein-Shostakovich collaboration is, however, absolutely incendiary. For Alisa Weilerstein, Shostakovich's Cello Concerto No. 1 has become an alter ego - she has played it countless times, and at 22 she studied this concerto with Mstislav Rostropovich himself, the one for whom this concerto had been written. And what we hear on this album is truly moving: from the almost demonic tempo of the first part, to the lyricism of the second, provided in perfect doses by the soloist, the soloistic cadenza, and back again to the perfectly held rhythm of the third part, enforced by the cellist and faithfully followed by an apt orchestra. What we have before us is one of the most difficult concerto scores ever written for cello, in a brilliant performance, widely acclaimed by international critics.
Jimmy Hughes, a British columnist, wrote about this album: "I don't think I've ever heard these two concertos played with this kind of belligerence and ferocity. The tempos are quick and the soloist's articulacy seems miraculous. Both renditions are intense and deeply felt..."
Another columnist talks about the feeling aroused by this recording, that the soloists are playing live.
As for me, I would like to add that it pleases me to see that there are young musicians who have the courage to confront the difficulties of a score, the models imposed in the past, the aura of the legendary names that had once played these works. Every period has its heroes - and Alisa Weilerstein is certainly an emblematic name for the interpretative art of the 21st century. Here she is with Shostakovich's Concerto No. 2 Op. 126, a work composed in Crimea in 1966, and thus created 50 years ago, but which reflects so well today's realities.
Alisa Weilerstein's new album can be listened at Radio Romania Muzical on Monday, the 21st of November, at 19:00, or again on Sunday, the 28th of November, at 13:05, or anytime on the website of the "Vote for the classical album of 2016" campaign.
Cristina Comandașu
Translated by Adriana-Cătălina Grigore
MTTLC 1st year, University of Bucharest