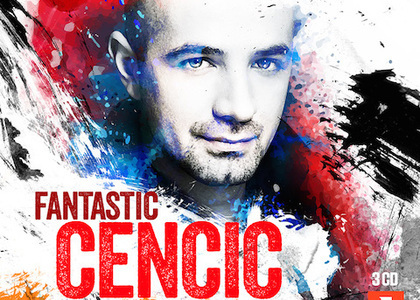 Fantastic Cenčić - a collection of recordings performed by countertenor Max Emanuel Cenčić - CD Review, November 21 and 22
Monday, 21 November 2016 , ora 16.02

If you would like to vote for this CD please vote HERE

Max Emanuel Cenčić - fantastic or arrogant?
This album entitled simply Fantastic Cenčić bears the mark of one of today's trendiest singers, countertenor Max Emanuel Cenčić, who wishes to prove how fantastic he is. Beyond my rhetorical question, the artist stands out with his extraordinarily bright voice, his exuberant lyricism but also with the creativity and meticulousness he chooses his repertoire with. As you will observe from listening to the recordings from this album, Fantastic Cenčić, the artist excels in music parts dedicated to sopranos but also for mezzosopranos.
One might say that Max Emanuel Cenčić is an artist that has broken a lot of records. Compared to his other colleagues, Cenčić is backed by years of on-stage experience. Since he was 17, after he left the famous Vienna Boys' Choir, looking back, the artist can proudly count his stage appearances in over 800 shows. He performed on some of the most important stages worldwide, such as the State Opera in Vienna, the Bavarian State Opera, the Fenice Theater and Grand Theater in Genova, Champs - Élysées in Paris. He was named 2013's best singer, year in which he remarked himself in the production of Artaserse of Leonardo Vinci. Also worth mentioning are his parts in Claudio Monteverdi's L'incoronazione di Poppea, Georg Friedrich Handel's Alessandro or Faramondo.
Ever since the beginning of his mature artistic career, he became well known for his virtuosity but also for being a discoverer of great opera works, beyond the baroque treasures, imposing his own interpretation with his distinctive and powerful voice.

Fantastic Cenčić
Max Emanuel Cenčić demonstrates his unique versatility through these recordings. He has the boldness to dedicate an entire album to the debut moments of his career, along with his maturity recordings, as mentioned earlier, unpublished recordings, being a treasure that most of this singer's admirers would like to possess.
Of all of Max Emanuel Cenčić's possible achievements, that took place in early November 2016, Parnassus Arts Production presented two shows of Siroe de Johann Adolf Hasse. This successful production will be launched on the album under Decca Records.
The album was launched on November 4 this year and it's included in "Vote 2016's classical music record" campaign. It is worth mentioning that this three volume collection encompasses live and studio recordings of works that covers a wide range of styles, from the great or lesser known names of baroque maestros, the bel canto of Gioachino Rossini, the lieders of Franz Schubert, Robert Schumann or Felix Mendelssohn, to works signed by Richard Strauss. The album's third volume contains recordings from the early 90s', shortly after Cenčić's parting from Vienna Boys' Choir. These recordings are published for the first time on this album.
I can only hope that i have stirred your curiosity to listen to these recordings, broadcasted on CD Review (12.15) on November 21 and 22.
Gabriel Marica
Translated by Ruxandra Vorotneac
MTTLC 1st year University of Bucharest