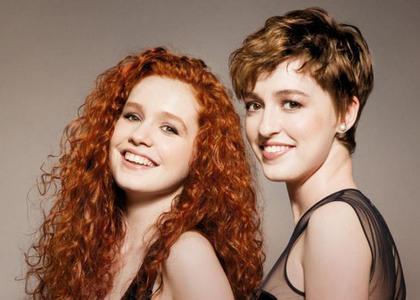 The album of the Berthollet sisters, Camille and Julie, in premiere at CD Review on the 6th and 7th of December
Tuesday, 6 December 2016 , ora 9.51

If you would like to vote for this CD please vote HERE

Camille ºi Julie Berthollet
Camille Berthollet started studying cello at the age of 4 and violin at the age of 8. In 2015, thanks to her performances in the young talents contest Prodiges, she signed a contract to release her first album under the Warner Music umbrella. Camille Berthollet says: Prodiges was for me a great launching opportunity. That's how I met the cellist Gautier Capuçon who named me to play with the best orchestras in France, starting with the National Orchestra in Montpellier. My first album sold in 75 000 copies, an event in the classical music world, taking into consideration that other celebrities sold a maximum of 5000 copies of an album.
And because we were talking about the campaign when these recordings have been made, I must mention the participation of the Harmonium's Orchestra in Monte-Carlo, conducted by the young Julien Masmondet, but also the pianist Guillaume Vincent, his partner on the album's chamber songs. It's a pleasant album for those who wish for an audio ambience which accompanies or relaxes them. The orchestration is well-built, the interpretation is fresh, full of demonstrations of brilliant mastery, but there's also a sensible, emotional atmosphere thanks to the two instruments.
Like her sister, Julie Berthollet started studying music at the age of 4, but she chose violin to whom she stayed faithful. She studied in Gevena, Zurich and Vienna where her teacher was our violinist, Mihaela Martin.

An album of jewelleries
After the success of her first album, Camille Berthollet decided to release this year an album with her sister, Julie. The two sisters are like the feminin version of the renown duo of the Capuçon brothers, Renaud and Gautier. Their album includes known sheets with interesting orchestrations, quite inovative, interpreted with spirit, joy, energy and sensibility as well. They try to show that they're capable of approaching more musical genres, from the so-called "traditional" jewells such as Sword dance by Haciaturian, Flight of the bumblebee by Rimki-Korsakov or the Hungarian dances by Brahms, to Carl Jenkins's Palladio or Oci Ciornie, the renown Russian folk song, the one which they play accompanied by the surprise guest of the album, the guitarist Thomas Dutronc.
Therefore, I invite you to listen to this album in premiere at CD Review (12:15) on the 6th and 7th of December.
Gabriel Marica
Translated by Matei Denisa
MTTLC, University of Bucharest, 2nd year