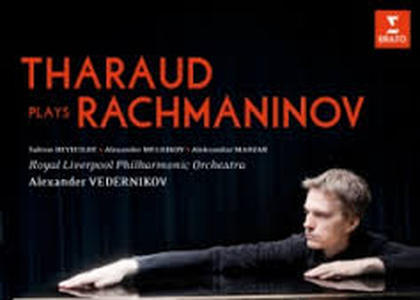 Alexandre Tharaud performing Rahmaninov- an album broadcasted in premiere at CD Review on the 28th and 29th of November
Wednesday, 28 December 2016 , ora 10.01

If you would like to vote for this CD please vote HERE
A concert dedicated to young pianists
The known French pianist Alexandre Tharaud released last month his first album, being dedicated to Serghei Rahmaninov. It's an album which includes the famous Concerto no. 2 op. 18 in C minor, in a thrilling interpretation. The pianist was accompanied by the Royal Harmonium's Orchestra in Liverpool conducted by the Russian conductor Alexander Vedernikov.
Tharaud says: I was still pretty young when I performed for the first time Concerto no. 2 by Rahmaninov. I adored him from the start...It's like Rahmaninov's virtuosity is dedicated to young pianists. Today, of course, I'm still charmed by this work's virtuosity, but now I'm more interested by his dark nuances: the feeling of despair, of oblivion into the abyss. My perception towards this concert has changed very much during time.
I think that this Concerto no. 2 by Serghei Rahmaninov is one of the most popular and more recorded works for piano. It's like you never tire listening his sonorant essences, the quintessence of romance in a theatrical vision. What does Alexandre Tharaud offers us? Well, not a version full of passion and glow as expected. Can such a performance be taken into consideration? I say it can. Tharaud is an artist who made his own performing portrait. His Rahmaninov intrigues and draws me with his clarity which is constant during the whole recording. It is added a diverse and attractive dialogue with the Royal Harmonium's Orchestra in Liverpool conducted by Alexander Vedernikov, one of the Russian conductors whose carieer started to stand up lately, especially in Britain.
Russia remained present in his music with the nostalgia, regret and emotion of an uprooted man
The recordings of the Concerto no. 2 for piano by Serghei Rahmaninov is part of the personal atmosphere created by the Russian's five Fantasy pieces op. 3 (1892), with its well known Prelude in C sharp minor, along the four works: Elegie, Melody, Polichinelle and Serenade.
Romance and Waltz in A Major for piano 6 hands, the works performed by Tharaud with Alexander Melnikov and Aleksandar Mad¾ar end the album. The album's surprise, in my oppinion, is the sublime Vocalise no. 14 op. 34 which Alexander Tharaud chooses to play in its original version for voice and piano, with the French soprano Sabine Devieilhe. A clean voice and a wonderful version which can be compared to the ones with Natalie Dessay or the brilliant Anna Moffo.
Tharaud says about Rahmaninov: He is still reinventing music! What it concerns the influences, Russia remained present in his music with the nostalgia, regret and emotion of an uprooted man, with unsoothed longing for his country. I think the same thing happened to Chopin who left Poland at 20 years old and never came back: that's why his music is filled with nostalgia.
Therefore, I invite you to listen to this album in premiere at CD Review (12:15) on the 28th and 29th of November.
Gabriel Marica
Translated by Matei Denisa
MTTLC, University of Bucharest, 2nd year