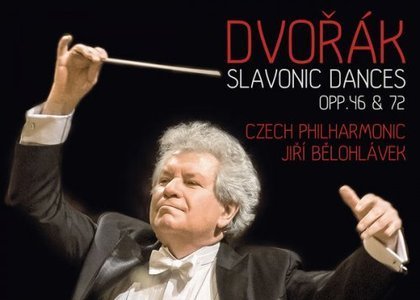 Antonin Dvořák- Slavonic Dances op. 46 and op. 72, an album signed by the conductor Jiří Bělohlávek and the Czech Harmonium's Orchestra- at CD Review (23-25 November)
Friday, 23 December 2016 , ora 10.30

If you would like to vote for this CD please vote HERE

One of the most important Czech conductors at the moment
It is my pleasure to invite you to CD Review into the wonderful world of Antonin Dvořák's music, accompanied by the Czech Harmonium Orchestra, conducted by Jiří Bělohlávek. Bělohlávek studied cello with Miloš Sadlo and graduated Conservatory and the Academy of art performance in Prague. After that, we must mention that the artist studied conducting for two years with our great conductor, Sergiu Celibidache. He's a maestro of the baton who when beyond the borders of his country. In almost half a century of activity, Jiří Bělohlávek has conducted over 5000 concerts and Opera shows and has over 500 recordings on CD and DVD. Among his most recent achievements while being on charge of the Czech Harmonium's Orchestra is the Symphony Integral of Antonin Dvořák, a set of 5 DVDs which include live recordings of the nine symphonies of the Czech composer. The collection appeared in 2016 and it's very interesting because, beside the works' performance per se, there are the comments of Jiří Bělohlávek and Marek Eben about the works, but also a documentary dedicated to Antonin Dvořák, called Sketches of Dvořák, by the director Barbara Willis Sweete.

The Slavonic Dances album
Beyond this DVD collection, this year, Jiří Bělohlávek and the Czech Harmonium Orchestra have also released the Slavonic Dances album, op. 46 and op. 72 by Antonin Dvořák; 16 jewels inspired by the Czech folk music, recorded live at the Rudolfinum Chamber in Prague. The Guardian wrote about the album: Bělohlávek came back to conduct the Harmonium's Orchestra and brought back his emotional and musical universe. In Dvořák's works, lyrism and endless Czech melancholy show up with the authenticity that only this orchestra can do.
Well, Jiří Bělohlávek and the Czech Harmonium's Orchestra, perhaps the most valuable symphonic ensemble in the country, have recorded these audio jewels, proving they understand Dvořák's music at a deep and natural level. But that's normal for them. Beyond the performers' talent, an extremely important advantage is the fact that the musicians are part of the Czech culture. There are authenticity nuances which they express naturally, with an unstrained lyrism, with remarcable passion and glow. I admire these recordings for their authenticity , for the easiness with which they present us this wonderful musical universe. A pleasant audition, without wanting to surprise us or, and perhaps I repeat myself, just the detail that it belongs to the Czech musical culture which also includes pridefully Antonin Dvořák.
I'm not going to tell you too much about this music which stand up by itself.
Therefore, I invite you to listen the Slavonic Dances op. 46 and op. 72, composed by Antonin Dvořák, performed by the Czech Harmonium Orchestra and conducted by Jiří Bělohlávek, an album which is broadcasted in premiere at CD Review (12:15) on the 23th, 24th and 25th of November.
Gabriel Marica
Translated by Matei Denisa
MTTLC, University of Bucharest, 2nd year