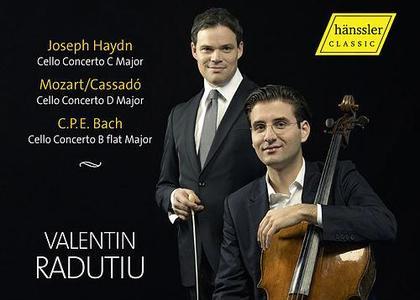 Classical concerts with the cellist Valentin Răduțiu: Music box, the 1st of December
Thursday, 1 December 2016 , ora 10.34

If you would like to vote for this CD please vote HERE

In June 2016, the cellist Valentin Răduțiu released his newest CD, recorded with the Chamber Orchestra in Munich, conducted by Stephan Frucht, reuniting three classical concerts: no. 1 by Joseph Haydn, Concerto in D Major transcribed by Gaspar Cassado after Concerto no. 3 for horn and orchestra by Mozzart and Concerto in B flat Major by Carl Philipp Emanuel Bach. Valentin Răduțiu, born 30 years ago in Munich in a Romanian family, has won in 2011 second place at the George Enescu Contest, section cello and has recorded in 2013, also with the Classic Hanssler record company, the integral of George Enescu's works for cello and piano.

More details about this album, broadcasted on the 1st of December on Radio România Muzical, in the interview I took with him.
"The conductor is a friend of mine- we know each other for many years, he also lives in Berlin, he's a multiskilled man who firstly studied violin, with the concert-maetro from Berliner Philharmoniker. In the meantime, he also studied conducting and done a Medicine Doctorate, and at this moment, he's more activ in the cultural management, but as a conductor, he has always been particularly dedicated to the classical repertoire. These are also the records which he has done so far and for many years he was saying how much he wanted to do a Haydn album together. At the same time, he always wanted in his discography something...not necesarily exotic, perhaps exotic in the way that no one did that, but at the same time, loved by people and, regarding this album, this song has been the discovery with the Cassado's transformation of the Concerto for horn by Mozzart. When I told him about this discovery, I was pretty skeptic about changing Mozzart's works. This must be done by a true master; Cassado studied Ravel's works, beside being an extraordinary cellist, and we both found this concert for cello and were really thrilled. And that's how we organised things and there's already a collaboration contract with the Chamber Orchestra in Munich, an orchestra which I know, being in my native city for many years. I thought it's the perfect partner for this repertoire. The year when I recorded the album was also an year of celebration- 300 years- of Carl Philipp Emanuel Bach and that's how we have at one place three concerts by three great masters from the Classical Age: Haydn, Mozart and Carl Philipp Emanuel Bach.
The recordings per se were quick. We've worked with a sound engineer from a very famous record company, they have over 20 Grammies, they've worked very much for Deutsche Grammophon and...we had very good partners in every way, therefore we wanted this album to be released as nice as possible.

They talk a lot about the discographic market's downfall for classical music, too. On the other side, I think that for a musician, to have albums, to edit the results of his work, is vital, isn't it?
Yes. Of course that the discographic field is in a big crisis. For many years, the glorious times when the CD was invented have past, for several reasons. One crucial one is, of course, the internet and the easy access to Youtube etc. For musicians, beside Anna Netrebko and Lang Lang, the actual disc is no longer a commercial power. The record companies try having an appealing catalogue, a certain profile which allows them to subexist. In the most wonderful way, there are many labels and, although we speak about a crisis, the numbers are really shocking...how many classical music albums are being released daily worldwide. Perhaps it is true that the very strong engine are the musicians for whom the disc is also a tool. You can't live with it, you can't live without it. Many times you make big efforts to produce an album, financial, too. Come to think of how expensive is a production and how long does it take until the expenses are regained...but the musician wants to have an audio business card, to leave behind or in the future a document of his musical oppinion. An album is always the closest thing to any musician's soul, it's a statement, it's on one side something temporal, meaning that in 10 years I will be playing Haydn differently and I hope I will, but at the same time, I must go to record with a certain thought, that it's a final thing.
Then, of course, the album is a tool. We need, people still request many times after a concert...they wish to buy an album. Perhaps nowadays, this is the most interesting moment to sell albums, right after the concert. Then, of course, the organisers want to make an impression before inviting an artist and they do so by listening to their album. Therefore, there are many aspects and I enjoy each album which is like a baby whom you sent into the world in a way, then you watch to see his path. The stories about musicians are very interesting, when they listen 20 years later their own album on the radio and they recognize it after just a few notes and many emotions and memories are triggered. They sometimes listen and think just how beautiful this record is, not fully realizing it's theirs.
Cristina Comandașu
Translated by Matei Denisa
MTTLC, University of Bucharest, 2nd year