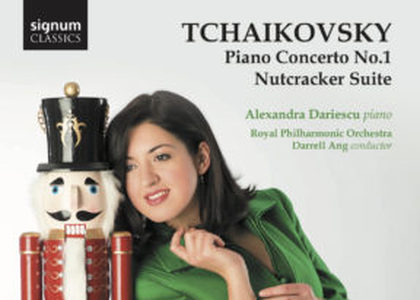 Pianist Alexandra Dariescu- the Tchaikovsky album: Music box, the 30th of November
Wednesday, 30 November 2016 , ora 10.41

If you would like to vote for this CD please vote HERE

On the 21st of October 2016, the pianist born in Iași, with a beautiful career in her adoptive country, Great Britain, she released her first album as a concert soloist. A debut with the Royal Harmonium's Orchestra in London, conducted by Darrell Ang. An album which could be an ideal Christmas present, thanks to its repertoire and its intensity and the performance's finesse, broadcasted on the 30th of November, at 18:00, about which Alexandra Dariescu told us more details.
"I chose Tchaikovsky's Concerto no. 1 with the Suite which have been arranged by Pletniov, "Nutcracker" for solo piano. Therefore it's a very beautiful programme. It's a anniversary one- this year it's 200 years since Hoffman wrote the story of "Nutcracker" and for me it's an extraordinary memory since I was a little girl and listened stories on LPs. There were musical stories, I remember, mom would encourage me very much to listen to them and I would dearly. And right when I discovered these sheets of "Nutcracker", arranged by Pletniov for solo piano, I said that I must record it. And that's how this Suite stays by Tchaikovsky's Concerto no. 1's side, something which I played for many times and which is dear to me. I think I finally understand the essence of this concert and of course, when time came to record with the Royal Harmonium's Orchestra in London, it was the perfect combination.

You speak about the opportunity of recording with this well-known orchestra. How did this opportunity show up, isn't it something unusual?
No, not at all and it's a great privillege for me to be able to record with them. It was the perfect combination- both the record company and the Harmonium named me and it was...I don't know...the right time for me when I was prepparing to record a concert with the orchestra. So it was a good thought from everyone and a collaboration which continues to be very beautiful and fruitful at the same time.

I think that recording Tchaikovsky's Concerto, the famous Concerto no. 1, is truly a challenge because there are so many pianists before you who did this thing. What new thing did you preppare to bring and what do you think is the attraction element for the ones who will see the album in a bookshop, to make them buy it? It's difficult, I think, nowadays, when there's such a rich offer, isn't it?
Yes, it's really difficult, indeed. Firstly, I don't think of anyone else who could have recorded this concert; it's very important to make your voice known. For me, this concert it's an entire ballet; it's about the gracefulness and the story which is being said during this concert. When you enter a bookshop and you see the CD, its covers are very beautiful- it's a game between me and the Nutcracker. The moment you listen to it, it's even more beautiful and I hope you could feel the emotion and the joy with which we recorded all the notes.

Some details about the actual recordings of the concert...
It took us only one day to record the concert with the orchestra; we had two sessions of three hours each. It was some pressure, for sure, but at the same time, when I record something, I want to be in very long pieces, so it can flow. I don't like too much editing. So when I entered the Hall- a very nice one, right in the center of London, Henry Wood Hall...It's very different to record a concert with the orchestra, compared to a single record, because when you are alone in the studio, with only the piano...but there were here already 100 people who, of course, listen to your solo fragments, but also play together with you. So it's been in a way a concert; a longer concert, but that's how the atmosphere was, that's how I felt it.
Cristina Comandașu
Translated by Matei Denisa
MTTLC, University of Bucharest, 2nd year