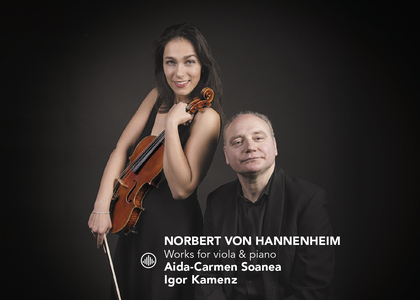 The violist Aida Carmen Soanea - works by Norbert von Hannenheim: Music box, the 1st of December
Thursday, 1 December 2016 , ora 10.52

If you would like to vote for this CD please vote HERE

Recently, the nominees for the International Prizes of Classical Music have been announced, ICMA being one of the most important discographic prizes at the European level. The winners will be announced on the 20th of January 2017 and the rewarding ceremony will take place on the 1st of April 2017 in Leipzig.
Among the nominees, there is also the Romanian violinist Aida Carmen Soanea with an album which includes works by Norbert von Hannenheim, recorded with the pianist Igor Kamenz. The album was released in June 2016 at the Challenge Classics record company.
More details about this innovative repertoire in the interview by my coleague, Radu Mihalache, with the protagonist, Aida Carmen Soanea.
"This album is something entirely new, taking into consideration that this name- Norbert von Hannenheim- in 2006, when I started the project's discovery, was still unknown.
Histoy began after a show close to Munich when a local university proffesor came with a page, about 30 bars, telling me he has composed it for an exam in Berlin a few years ago where there was a lecture about Schoenberg and his school in Berlin. And this Norbert von Hannenheim who was born in Sibiu in 1898, living in Budapest, then Graz, reaching therefore Schoenberg in Berlin, ended up winning in the '30s some pretty important prizes at the time. Even Schoenberg said about him that "he's one of my best students". But, because in 1933 the political situation has changed in Germany and Norbert von Hannenheim, even if he was a German-born citizen, was in big trouble because he was part of the degenerated music, the Schoenberg school. He was banned completely which made his life really difficult. But he didn't want to leave Berlin; he stayed up until the beggining of the '40s.
His friends described him as a very difficult character with psychic problems. Some friends suggested that he should close all his manuscripts in a luggage which was put in a bank in Berlin and which, unfortunatelly, was entirely bombed in '44. After this event, Von Hannenheim had a schizophrenic attack, then he was taken by force to a hospital where, after being treated, died in September 1945.
But, when I started the project in 2006 and I was looking all over the place some information about Hannenheim, all of these were still unknown. In 2008, a book came up by a musicologist, Herbert Henck, and all these informations about his personal life came to surface; up until then no one knew a thing. I've met many musicologists, relatives of him, several similar composers which said something like "Oh, he could have another sheet...Oh, you could find something there!"
So I managed gathering all this material and to transfer my passion to the pianist with whom I recorded, Igor Kamenz, for this project and to show these works which, for the repertoire for viola, especially for the repertoire from the schoenbergian school, represent a giant discovery, simply because there are so many works. We're talking about two Sonatas, a Suite, three songs and a duo for violin and viola.
Cristina Comandașu
Translated by Matei Denisa
MTTLC, University of Bucharest, 2nd year