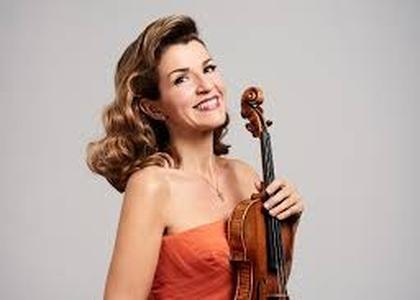 Mutterissimo - The Art of Anne-Sophie Mutter
Wednesday, 14 December 2016 , ora 13.20

If you would like to vote for this CD please vote HERE

The album includes a selection of some of the best recordings from the artist's discography, personally picked by the violinist, recordings which are mainly from her last 20 years of career.
Mutterissimo - Arta Anne-Sophie Mutter is an album whose design was chosen thanks to the contest held by the site 99designs in collaboration with the famous editorial emblema Deutsche Grammophon. The contest's advert said: We are searching for the best and innovative approaches to capture the art's feeling of Annei-Sophie Mutter. The winning design will be chosen by Annei-Sophie Mutter personally.
For many years, Annei-Sophie Mutter hasn't only played in the most famous concert halls of the world. She chose to reach for the youths, having recitals in clubs where she discovered an audience who is indifferent to the rituals of the traditional classical concerts, but whose reaction to music is, as Mutter says, much more spontaneous. So it's normal that she is using social media to get in touch with the fans who were "conquered" on these nonconformist artistic meetings. And the contest for the Mutterissimo album is the result of this communication.
As for the content, I can say that Anne-Sophie Mutter is inviting all her admirers to take part to this journey across the diverse universe of the music interpreted by the great violinist. Mutter is taking us to the paths of the archknown repertoire of the violinistic literature, from her point of view. A great part is dedicated to romantic works by Robert Schumann, Johannes Brahms, Franz Schubert, Felix Mendelssohn, Piotr Ilici Ceaikovski, Antonin Dvorak or Gabriel Faure. It's added emotional recordings of the famous Claire de lune by Claude Debbusy or Tzigane by Maurice Ravel. To spice the two volumes of this album, Anne Sophie Mutter has chosen Jamaican Rumba by Arthur Benjamin or It Ain't Necessanly So a transcription by Jascha Heifetz after Porgy and Bess by George Gershwin.
These are some of the reasons why I invite you to listen the last CD Review shows (12:15) of 2016 on the 14th, 15th and 16th of December with some of these... Mutterissimo.
Gabriel Marica
Translated by Matei Denisa
MTTLC, University of Bucharest, 2nd year