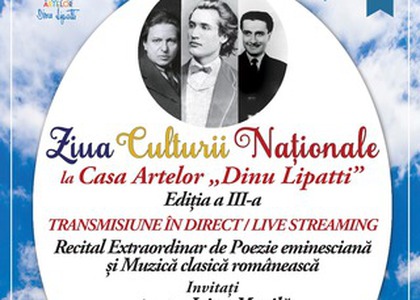 "Dinu Lipatti" House of Arts opens the Season of Cultural Events, with Live Broadcasts/ Live Streaming on National Cultura Day
Thursday, 14 January 2021 , ora 15.14

Dinu Lipatti House of Arts opens the Season of Cultural Events for 2021,making the first Live Streaming on the Facebook page of the Music Salon of Lipatti House, on National Cultue Day 3rd Edition on Friday- Januay 15th, 2021- at 7pm, with an extraordinary recital of Eminescus poetry and classic Romanian music.
This year marks 171 years since the birth of the genius of Romanian culture,the national poet Mihai Eminescu and the artist guests of Dinu Lipatti House of Arts- actress Irina Movila,cellist Dan Cavassi and pianist Verona Maier-will give an extraordinary recital with the lyrics of the incomparable poet, accompanied by the deep ad subtle sounds of Romanian classical music.
The program includes a selection of the most beautiful poems by Mihai Eminescu- Glossa, What I wish for you,sweet Romania, When the sea.., Why dont you come to me, At the star, You go, With the sails hanging, What are you dangling, Forest, Oh,stay, And if, Stars in the sky, embraced by the harmony of some compositions signed by George Enescu,Dinu Lipatti, Ciprian Porumbescu, Constantin C. Nottara, Constantin Dimitrescu and Paul Constantinescu.

Translated by Dumitru Bianca,
University of Bucharest, Faculty of Foreign Languages and Literatures, MTTLC, year I
Corrected by Silvia Petrescu