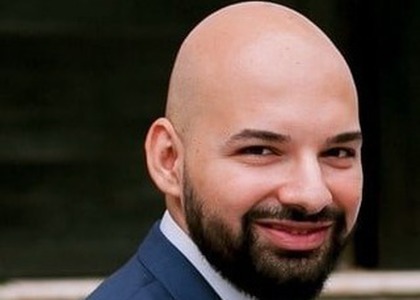 Tuesday night season WITH PUBLIC! Winners of international competitions: baritone Cristian Ruja
Thursday, 18 February 2021 , ora 15.08

At the age of 26, for baritone Cristian Ruja, participation in specialized competitions is important. Not long ago, the International Competition "The Road to Celebrity", in its 11th edition, awarded the young artist the FloricaCristoforeanu Prize and the Prize for the Best Performance of a Romanian song, the lied Gornistul by P. Constantinescu. Following an already traditional partnership, the "George Enescu" Philharmonic offers the winners of the contest The Road to Celebrity and the honor of a recital. We are glad to have, on February 23th , the talented singer with the pianist Raluca Ouatu in the Tuesday Night Season. The recital will be even more interesting as the main protagonist wanted to have a guest, on bass ȘtefanLamatic, an equally young artist confirmed in prestigious competitions: 3rd prize at the lied contest "Ionel Perlea ", the prize for the Best Young Performer at the" HaricleaDarclee "Contest and Festival, the third prize at the" Opera Start "contest and the Special Jury Prize at the Romanian Lied Contest, organized by the soprano Mariana Nicolesco.
Tuesday evening season (Small Hall)
Tuesday, February 23th 7pm-half past 8 pm
Roman Athenaeum, Benjamin Franklin Street, Bucharest, Romania
Vocal recital
CRISTIAN RUJA baritone
Guest
ȘTEFAN LAMATIC bass
At piano RALUCA OUATU
In the program, areas from works of
Donizetti, Mozart, Puccini, Rossini, Verdi, Bellini, Gershwin, Massenet
Co-producer: Radio Romania Musical
Starting with Wednesday, February 17th tickets can be purchased: - From the Ticket Office of the Romanian Athenaeum
Schedule: Tuesday - Friday 12pm-7pm. Payment only in cash.
Phone: 021.315.68.75 - Online, accessing the website www.fge.org.ro - "Calendar" section. Please note that once the online booking process has started, the seats will be blocked for 30 minutes. The maximum number of tickets that can be purchased in an online session is six tickets. In order to support the activity of the "George Enescu" Philharmonic, the payment processor does not charge at this concert the commission of 5% of the ticket value.
Tickets once purchased are only refundable under the conditions provided by law.
The concerts scheduled for the 2020-2021 season involve compliance with all safety measures to prevent contamination with the new SARS-CoV-2 coronavirus.
The entrance to the concert is allowed until 6.50 pm and the public is asked to strictly observe the rules imposed by protection and distance.

Translated by Dumitru Bianca,
University of Bucharest, Faculty of Foreign Languages and Literatures, MTTLC, year I
Corrected by Silvia Petrescu