Disk of 2021 > Jazz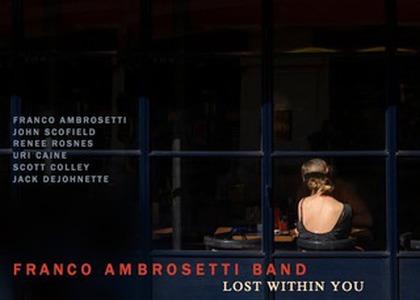 Franco Ambrosetti-album "Lost Within You" – Jazzy hour, 23rd of March 2021
Friday, 26 March 2021 , ora 9.57

The Swiss Trumpet player Franco Ambrosetti confirms the state of these artists who in those turbulent times offers us moments of tranquility. In an impressive formula, together with John Scofield on guitar, Rene Rosnes and Uri Caine on Piano, Scott Colley on counter bass and Jack DeJohnette on drums, Ambrosetti, almost octogenarian, after 25 record that he has as a leader, releases a strong album of ballads which is called"Lost within you" , that reminds us, as an approach and as sensibility, of the ballads album of Miles Davis, "My Funny Valentine".
9 songs, of which two original songs and the rest of them are covers of Horace Silver, Bill Evans and McCoy Tyner, imbued with a clean tune of flugelhorn, a personal lyrism and of course, a flawless group interpretation. A refined approach, based on musical notes carefully chosen despite velocity and density, represents another specific part of Ambrosetti's personality. The notes are long, disposed in surprising directions, the manner being taken by all those who are implied.
It seems to me that John Scofield isthe best of them all as he reflects his class in every song, raising considerably the level of the whole repertory. "Lost within you" is an album which can be put in the masterclass category, a proof of measurement and of communication of which each one of us can learn a bit.

Translated by Mihai Petre,
University of Bucharest, Faculty of Foreign Languages and Literatures, MTTLC, year I
Corrected by Silvia Petrescu