Disk of 2021 > Jazz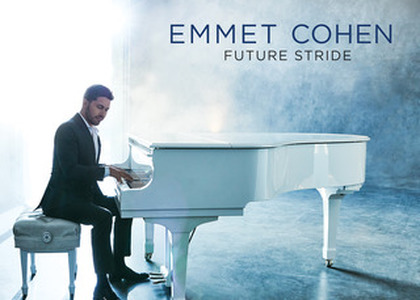 Emmet Cohen – the album 'Future Stride' - Jazzy hour, March 30th 2021
Thursday, 1 April 2021 , ora 15.07

One must know about Emmet Cohen, one of the most brilliant pianists who comes out from the new generation of musicians raised according to the new school with a tendency towards tradition. Thus, the jazz fallows his innovative evolutionary trajectory/pathway, but persistently bound to its roots. The title of the album released in 2021 by Emmet Cohen and its trio evokes the term of "stride", a sound which suggests the idea of past, the roaring clubs of the '20 Harlem (1920, yes a century ago) or the burlesque gymnastics of the silent movies, the first particular signs of early jazz.
But within the music of the musician and composer that is Emmet Cohen, the past is always part of the present, with a mind opened towards the future within the new expression of what we call the '20. "Future Stride" is a glamorous album, with echoes of stride and contemporary punctuations, refined till the hidden note, giving a hint which defines the uncompromising jazz, accessible, well preserved and esthetically defined as contemporary. At the least, in regards to the traditional trio and its refined evolution through the piano prodigy, at which is added as a synergy, to some of the songs, a windpipe duo.
Emmet Cohen is one of those brilliant musicians who reproduces the early jazz forms without alluding to the idea of copy or template, covering the genre lexicon, containing a century, bringing the context into modern language. "Future Stride" connects with vitality the second decade of our century with the previous one dissipating the mystery of the old jazz era. It is just wonderful because it rejuvenates early emotions, while heading towards the future.

Translated by Băluță Camelia,
University of Bucharest, Faculty of Foreign Languages and Literatures, MTTLC, year I
Corrected by Silvia Petrescu