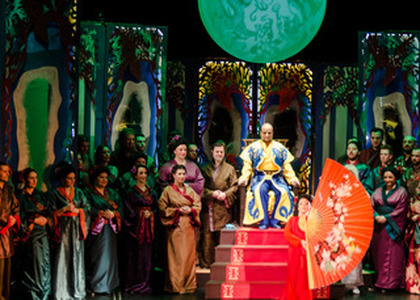 Welcome to "The Land of Smiles"! At the Brasov Opera Hall!
Wednesday, 12 May 2021 , ora 16.20

Saturday, the 15th of May 2021 from 18:30, the Brasov Opera invites you to the concert hall at StradaBisericiiRomanenr. 51 in order to view the operetta "The Land of Smiles" by Franz Lehar! After seven months in which we were forced to physically distance ourselves from you, dear spectators, we are extremelyhappy andeager to announce that now we can finally see each other again!
The true premiere of Lehar's creation took place in Vienna in 1923 under the name "The Yellow Jacket" and in 1929 in Berlin, the show was played under the title "The Land of Smiles". At Brasov Opera, this title was reused in 2014 for the International Opera, Operetta and Ballet Festival.
Inside the hallsof Field Marshal Lichtenfels, his daughter Lisa is being congratulated for winning the grand prize at the equitation competition. Prince Sou-Chong from The Land of Smiles arrives in Vienna to offer his own tributes. A long-standing love between Lisa and Sou-Chong has been formed that has still yet to be confessed. The sudden calling for the prince to return to his home country, forces Lisa to make a decision. The promise of mutual love incites her to ignore all warnings and reject conventions in order to marry Sou-Chong and follow him in his country. In the distant Land of Smiles she will soon discover that in spite of all of the love that Sou-Chong has for her, he cannot overcome the rules that have beenengraved for thousands of years. With a broken heart and as absolute proof of her love, Lisa shall give the prince back his freedom, leaving him behind in order for her to return to Europe. It is one of the few operettas to not have a happy ending. The idea conveyed to the audience is that sometimes, two different worlds can only coexist up until a certain point.
Starring:
Lisa - Cristina Coatu
Sou-Chong - LiviuIftene
Princess Mi - Corina Klein
Gustav - Mugurel Oancea
Thondup - Lorand Cristian
Ferdinand Lichtenfels - Stefan Schuller (debut)
Chief eunuch - Simona Manole (debut)
Mrs. Hardegg - Mariana Tomescu
General - Paul Tomescu
Diplomat - DorinIuga
Valet - Mihai Burlacu
Four Friends: Alina Ichim, Mihaela Marele, Anca Panait, GeaninaTomescu
Ballet soloists: Mihaela Pop, Dorin Mirea
Four Brides: Diana Drăgan, Miruna Moldoveanu, Nicoleta Sasu-Galian, Raluca Șut
Performed by: The Orchestra, Choir and Ballet of the Brasov Opera. Conductor: Master Traian Ichim. Artistic direction by: Tiberius Simu. Scenography: Rodica Garstea. Choir Conductor: Dragos-Mihai Cohal. Choreography: Corina Dumitrescu. Assistant director: Asineta Raducan. Choreography assistant: Meda Enacache. Scene Movement: Ramona Mezei. Martial Arts Instructor: Adrian Silivestru. Scene Direction: Dan Antipa.
Ticket Price: 30 RON - Category: General access.
Tickets for the operetta show "The Land of Smiles" are available for purchase starting from Wednesday, the 12th of May online on the www.bilet.ro site and can also be bought at the Brasov Opera atStradaBisericiiRomanenr. 51. Ticket Booth Program: Monday - Friday 10:00 - 17:00 with an hour before the start of the show (in case there are tickets left unsold). More informationcan be obtained by calling: 0268-419380
During the 2020 - 2021 stage, children aged 7 and up can be granted access to the opera and operetta shows!
For the Brasov Opera Events, the audience will be granted access to the shows only after performing a temperature check. Masks are obligatory! Distant seat placement must be respected. We ask that you pleaseremain at homeshould you display signs of respiratory infectionin order to prevent any potential danger to both yourself and to the other participants of this event.

Translated by Yang Jin Cristian,
University of Bucharest, Faculty of Foreign Languages and Literatures, MTTLC, year I
Corrected by Silvia Petrescu