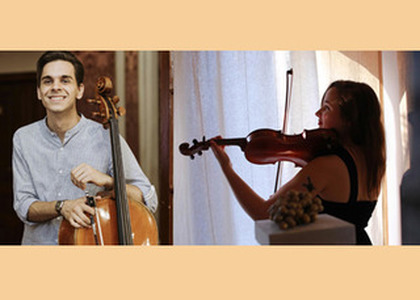 The Prizes of the XVIIth edition of the Bucharest Hungarian Music Festival were given
Monday, 17 May 2021 , ora 9.25

The XVIIth edition of the Bucharest Hungarian Music Festival was held from the 10th to the 13th of May 2021. For three consecutive nights, music lovers and those who believe in the importance of the support of the new generation musicians were able to follow the evolution of the young musicians who committed themselves to include opuses from the Hungarian musical literature in their repertoire.
This year's edition was dedicated to Liszt Ferenc, on the occasion of his 210th anniversary, and also to Cziffra György, a piano virtuoso born one century ago, who can surely be called the heir of Liszt not only for his extraordinaire interpretations of maestro's works but also his improvisations and paraphrases worthy of his spiritual mentor. Evoking the art of the two remarkable personalities of the musical history, on the opening of the premieres, pianist Viniciu Moroianu, professor at the National University of Music Bucharest, performed Liszt's opus named Variations on J.S. Bach's Weinen, Klagen, Sorgen, Zagen. After the jury's evaluations, KÓSA András László, the director of the Hungarian Cultural Institute, announced the names of the laureates of this year's edition. At the end of the Festival, the Les Enharmoniques Duo consisting of pianists Maria Indricău and Anamaria Biaciu-Popa, the winners of the Public Choice Award of the 2015 edition of the Bucharest Hungarian Music Festival, performed Liszt Ferenc's Hungarian Rhapsody No.2.
The Laureates of the XVIIth edition of the Bucharest Hungarian Music Festival and the host institutes where they will have their recitals are:
First Prize: violin-cello duo Maria Marica - Cornelius Zirbo will perform their recital at the Hungarian Cultural Institute in Istambul.
Second Prize: pianist Maria Ionel will take the stage of the Liszt Ferenc Music Academy in Budapest.
Third Prize: bariton Fazakas Tamás will give a recital at the Hungaricum Collegium in Vienne.
In Memoriam LudovicBács Prize, granted along the ACCUMM Fondation: cellist Salomeea Blându. The young cellist will perform at the Hungarian Cultural Institute in Sofia and will have the honour to give a recital at our Institute in January 2022, on the occasion of maestro Bács Lajos's anniversary.
The ICon Arts Transylvania Festival scholarship was adjudged to flautist SalomeeaBodea, who will participate in a two-week course session of the ICon Arts Summer Academy in Sibiu county.
The most votes of the public went to Lázár Katalin and Ioan Mihăileanu, a flute-piano duo which you will be able to listen to during the Christmas concert.

Translated by Cotar Alexandr,
University of Bucharest, Faculty of Foreign Languages and Literatures, MTTLC, year II
Corrected by Silvia Petrescu