Disk of 2022 > Clasic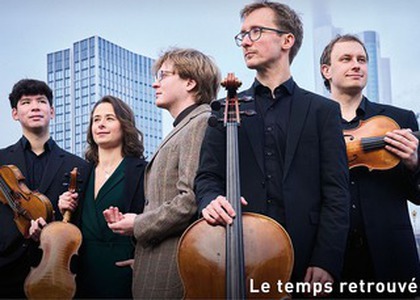 Eliot Quartett and pianist Dmitry Ablogin - the album 'Le temps retrouvé' - CD Review, November 24th, 2022
Monday, 12 December 2022 , ora 10.49

The new album of the Eliot String Quartet from Germany is called "Le temps retrouve" ("Time regained") and is dedicated to the musician whose birth will be two centuries on December 10 - Cesar Franck, a composer that the members of this ensemble find unconventional and exceptional. "We love Cesar Franck's music. Especially his incredibly rich and recognizable harmonic language, his subtle modulations are of a penetrating beauty", say the four members of this quartet founded in 2014. The ensemble's musicians come from different countries - Canada, Russia and Germany - and they settled in Frankfurt, a city where they asserted themselves and brought an extra color to the musical life of this metropolis, the band becoming in 2019 the Quartet in residence at Holzhausenschlössen, where it has its own concert season. In the past, the ensemble, named after the American poet Thomas Eliot, studied with Hubert Buchberger and Tim Vogler at the Hochschule fur Musik in Frankfurt, and also collaborated with the pianist Alfred Brendel and the Belcea Quartet. He received several important prizes in music competitions in Salzburg, Melbourne and the first prize in the Karol Szymanowski competition in Katowice; the quartet has also released three albums so far, all on the German label Genuin Classics, the most recent being the disc dedicated to the music of Cesar Franck, which we are premiering to you on Radio România Muzical. Recorded in September 2021 and released on July 1st of this year, the album includes the Quartet in D major and the Piano Quintet in F minor, scores that highlight the vast dynamic palette exhibited by the Eliot Quartet, its vibrant and sentimental sonorities, the homogeneity of the ensemble , its agility and rhythmic incisiveness.
The Eliot Quartet from Frankfurt consists of violinists Maryana Osipova and Alexander Sachs, violist Dmitry Hahalin and cellist Michael Preuß.
For the second piece on this album recorded at Radio-broadcasing in Kaiserslautern and included in the 2022 Discs of the Year project at Radio România Muzical, the Eliot Quartet collaborated with pianist Dmitry Ablogin, a young Russian musician settled in Germany, with a rich concert activity , professor of piano at the Hochschule fur Musik in Frankfurt. In recent years, this pianist has had an intense collaboration with the members of the Eliot ensemble. And the artistic communication that links them is evident in the print with the F minor Quintet by Cesar Franck, a monumental, complex and difficult score, or - as Sviatoslav Richter described it - very serious, immense, venerable and inspiring. Cesar Franck spared no effort when he conceived this piano quintet, around 1879, its forms, thematic chains and expressive attributes of the piece being truly impressive.
Larisa Clempuș
Translated by Denisa Elena Cincă,
University of Bucharest, Faculty of Foreign Languages and Literatures, MTTLC, year I
Corrected by Silvia Petrescu