Disk of 2022 > Clasic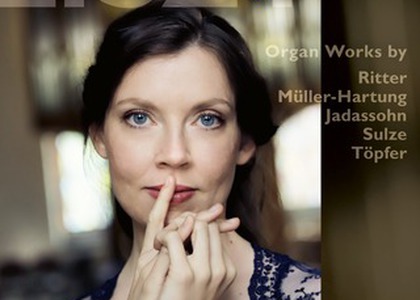 The organist Anna-Victoria Baltrusch - "Liszt - The Friend and Paragon" album - CD Review, December 7th2022
Thursday, 12 January 2023 , ora 13.49

Songs by Bernhard Sulze, Salomon Jadassohnand August Gottfried Ritter.
When he moved to Weimar, in year 1848, Franz Liszt took an interest in the organ, as he was introduced to the instrument by the greatest virtuosi in vicinity. In exchange, Liszt became an important source of inspiration for some of the musicians from Weimar and brought the city back to the level of one of the most flourishing European musical centres. That is the place where he enjoyed an extensive activity as a conductor, a symphonic music composer, but also as an organ sheet music composer. The album that I'm putting forth within the project "Records of year 2022" is a tribute for those personalities from the 19thcentury musical world, but also for some of their works, in the absence of which, Franz Liszt's organ creation might have not even been born. It is about the German musicians that have never been that well-known as Liszt, although they played an important part in highlighting the organ during the Romantic period, not only in churches, but also in concert halls, musicians as Carl Müller Hartung, Johann Gottlob Töpfer, Bernhard Sulzeor August Gottfried Ritter. Some of their compositions are brought together in the album "Liszt - The Friend and Paragon", launched on the 2nd of September of this year by Anna-Victoria Baltrusch, one of the most appreciated organists in Europe, who studied Protestant music, organ and piano at Hochschule für Music from Freiburg. Moreover, during the last couple of years, she carried out an extensive concert activity in Europe, collaborating with the Bavarian Radio Symphony Orchestra with the State Orchestra Brandenburg and with the Westfalia Philharmonic.
Anna-Victoria Baltrusch, aged 33, gained a substantial international career after winning the Contest of the Bach Society from Wiesbaden in 2009. She was a teacher at the Leipzig Conservatory, an organist at Tonhalle, and she directed the chamber choir TonArt from Zürich. Currently, she teaches organ at the Evagel Music Faculty from Halle, where she had been named a titular organist for the concert hall Ulrichskirche when starting out. Furthermore, this autumn, Anna Victoria Baltrusch launched two albums, both from the Record Label Audite, one of them consisting of songs by Franz Liszt, which you could already listen in October at CD Review, and the other consisting of works by other German composers and organists from the 19thcentury, which inspired Franz Liszt.
The organist Anna Victoria Baltrusch recorded this CD in July last year at the Tonhalle old organ, an instrument built in 1872 by Johann Nepomuk Kuhn for the first Tohnalle hall from Zürich, a refurbished instrument, brought back to the concert world after year 1990 at the Neumünsterchurch from Zürich. It is a highly valuable organ that highlights Anna Victoria Baltrusch's unique qualities - her technique and expressive attributes.
Larisa Clempuº
Translated by Adelina-Maria Mãnãilescu,
University of Bucharest, Faculty of Foreign Languages and Literatures, MTTLC, year I
Corrected by Silvia Petrescu